Spongebob Squarepants Online Game
Spongebob Squarepants Online Game
NOTE: This is an old Adobe Flash game. It no longer works.
Please visit the Free Online Brain Games page for the current online games.
This free Spongebob Squarepants online game trains concentration and visual perception.
Jump your Spongebob character upward through the maze of obstacles. Go for a high score!
To begin, click the Small, Medium, or Large link under the picture of the game. This opens the game in a pop-up window.
Spongebob Squarepants Online Game - Instructions
NOTE: This Spongebob Jump! game has a large file size (about 5MB). It may take a few moments to load.
If you like this game, you might enjoy the other free concentration games on this site, such as Mario Table Tennis and Bubble Frog.
NOTE 2: You may see a 10-second ad at the beginning of the game. I didn't put it there. I assume it's from the developer and helps to support his work.
HOW TO PLAY. The goal of this game is to jump Spongebob Squarepants from platform to platform vertically as high as you can. The higher you go, the higher your score.
Use the Arrow Keys to control Spongebob's direction. Press the Up Arrow to jump.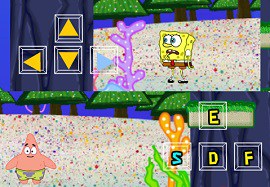 2 Player Mode
1 PLAYER OR 2 PLAYER MODE. You can play this game in one player mode, or two-player if your friend is in the room with you.
In two-player mode, Patrick the Starfish is added as a character. Control Patrick using the E S D F keys. Press the E key to jump.
This Spongebob Squarepants online game may remind you of Doodle Jump. It's very similiar in concept.
I found this game pretty easy up to about the 16,000 point level. Then it got tough. I had a lot of trouble progressing from there.
My high score is 30,966 so far. See my screen image below in the Comments. Perhaps you can do better!
While this game is based on a cartoon character, it does require brain skills to play. Maybe not memory in particular, but you certainly have to focus carefully on the many obstacles Spongebob needs to avoid. And concentration is a gateway to learning anything new.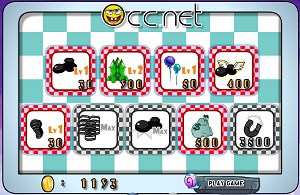 Click a Powerup to Upgrade It
GOLD COINS. Between each level, use your gold to upgrade the power ups. You earn gold in-game along with points.
The Powerup Store displays between levels. (See image at left.)
Click on the power up you want to upgrade. For example, for more powerful rockets, click the rocket icon.
I recommend upgrading your springs first. They let you jump higher.
There are numerous power-ups available throughout the game. Some not available in the store add time to the timer. They appear in the game automatically.
Speaking of which, the timer bar in the lower left displays how much time you have left. Once the bar is depleted, the game is over.
SAVES YOUR PROGRESS. There are so many obstacles in this game, you might find it challenging and even frustrating. The saving grace is this Spongebob game automatically saves your progress during each session.
Not only that, but you get unlimited lives. Spongebob resumes right where you left him.
KNOWN GLITCH #1. Several times, I noticed Spongebob would fall off a platform but the level wouldn't end. I seemed to be stuck.
If that happens, just press the ESC key to access the Main Menu. Restart the game by clicking the Player 1 button (or Player 2, if playing in multiplayer mode). If your progress was saved successfully, you'll be able to continue from there.
KNOWN GLITCH #2. The second glitch may or may not be my imagination. Occasionally you may encounter impossible jumps. No problem, just restart the level (see above) if that happens. The levels are randomly generated.
OPTIONS. Three buttons in the upper right let you enable/disable sound effects and music, and to Pause the game. After awhile the Spongebob song grew annoying to me, so I usually click the Music Note button to turn the song off. The sound effects are great though.
Overall this Spongebob Squarepants online game is quite fun. It certainly puts your concentration and visual attention to the test. Enjoy!
Published: 08/07/2016
Last Updated: 06/11/2020