Free Mahjong Solitaire Game
Free Mahjong Solitaire Game - Play Online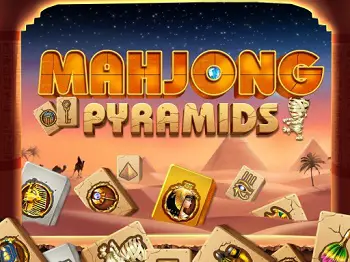 Here is another free Mahjong solitaire game, called Mahjong Pyramids. This version has an Egyptian pyramids theme, with simple and addictive gameplay.
This game is part of the free online brain games collection.
To begin, click the Small, Medium, or Large button under the picture of the game. This opens the game in a pop-up window.
If you like this game, you might also enjoy Mahjongg Alchemy.
Free Mahjong Solitaire Game Instructions
Note: The instructions below are for the old Adobe Flash game.
Mahjong Tower is based on the classic Chinese game. The objective is to remove all the tiles from the board.
HOW TO PLAY.  Only "free" tiles can be selected. Free tiles are tiles that are not covered by any other tiles and have a free edge on the left or right side.
To remove a tile, find a matching tile that is also not obstructed. The tiles must be exactly identical, except if they belong to a Flower or Season family.
Any two unobstructed flower tiles can be removed together. These include the Plum, Chry, Bam, and Orc tiles. Similarly, any two season tiles can be removed together.
These include the Spr, Sum, Aut, and Win tiles.
Try to remove tile matches that free up the most tiles first. You can reshuffle the remaining tiles up to three times.
SELECT YOUR LAYOUT. This version of Mahjong allows you to play eight different tile layouts. A layout is the pattern in which the Mahjong tiles are stacked. Available tile layouts include: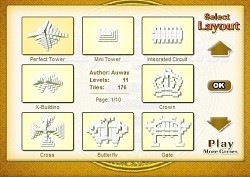 Perfect Tower - pyramid-shaped tower, 176 tiles, 11 levels
Mini Tower - rectangular tower, 60 tiles, 4 levels
Integrated Circuit - shaped like a computer chip, 88 tiles, 2 levels
X-Building - x-shaped tower, 100 tiles, 10 levels
Crown - shaped like a king's crown, 100 tiles, 3 levels
Cross - shaped like a cross, 152 tiles, 7 levels
Butterfly - shaped like a butterfly, 168 tiles, 5 levels
Gate - shaped like a fence gate, 122 tiles, 2 levels
TIMER & SCORE. You can compete against yourself in this free mahjong tile game using the score and timer. Your score shows in the upper left corner. Trying to remove tiles that don't match lowers your score, so think carefully before you make a move.
HINTS. You are allowed up to 5 hints per game. To get a hint, click the light-bulb button at the bottom of the window. Each hint causes two matching tiles to flash briefly.
SHUFFLING TILES. At any point during the game you can shuffle the remaining Mahjong tiles up to 3 times. To shuffle the tiles, click the Shuffle button (two arrows) at the bottom of the window.
Shuffling is a good option if you get stuck at some point.
PAUSING. If you need to take a break but don't want to lose your place, click the Pause button in the lower right corner of the Mahjong Tower window. Click the Pause button again to continue your game.
For a short description of each Mahjong game on this site, see my Mahjong Tile Games page. Mahjong is a tile game that trains problem-solving, visual perception, and concentration. Enjoy!
Published: 01/02/2011
Last Updated: 06/11/2020