Online Cribbage Game - Free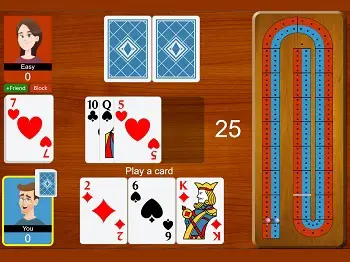 Here's a fun online Cribbage game you can play right in your browser. Play single-player against the computer or online against other real players!
This game is part of the free online brain games collection.
To begin, click the Small, Medium, or Large button under the picture of the game. This opens the game in a pop-up window.
Against the computer, choose from Easy, Medium, Hard, or Crazy Ninja mode. Against other people, choose Random, Play a Friend, or Private Room.
Online Cribbage Game Instructions
If you like this game, you might also enjoy my Video Poker page.
Note: The instructions below are for the old Adobe Flash game.
As with all card games, cribbage trains memory, concentration, and strategic thinking skills.
I am not a cribbage player, so I'll rely on the online help written by game author Uwe Voss to explain the rules.
To read the online help, click the "Rules" button in the game.
Below I've reproduced his introduction to cribbage for those (like me) who have never played before:
INTRODUCTION. Six Card Cribbage is basically a game for two players.
However, it does adapt easily for three players, and even four players in fixed partnerships. It is now the standard form of Cribbage and is widely played in the English-speaking world.
Cribbage in England is primarily a pub game. Indeed, it is one of the few games allowed by Statute to be played in a public house for small stakes.
A game of low animal cunning where players must balance a number of different objectives, remain quick-witted enough to recognize combinations, and be able to add up, it is perhaps not the most obvious of games to be so firmly associated with the English pub. It is a game where experience counts a great deal, though luck, of course, has a large part.
It is also a game where etiquette is important. The rituals associated with cutting and dealing, playing and pegging, as well as terminology, all serve the useful purpose of keeping things in order, and they help give the game a flavor of its own.
TWO-HANDED PLAY. Two players use a standard 52-card pack. Cards rank King-high (K), Queen, Jack, 10, 9, 8, 7, 6, 5, 4, 3, 2, 1, Ace (low).
The object is to be the first to score 121 points or more (twice around the usual British design of the board) accumulated over several deals. Points are scored mainly for combinations of cards occurring either during play or in a player's hand or in the cards discarded before the play, which form the crib or box.
Note: To play again after completing the game, close the game pop-up window, then re-open it by clicking one of the Play links above.
For a detailed explanation of cribbage game play, see the Rules section of the game. I hope you enjoyed playing this free online Cribbage game!
Published: 08/10/2010
Last Updated: 06/11/2020