Battleship Game Online - Multiplayer Option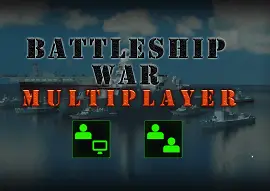 Ready to play the Battleship game online? Play single-player against the computer or multiplayer against real people.
This game is part of the free online brain games collection.
To begin, click the Small, Medium, or Large button under the picture of the game. This opens the game in a pop-up window.
In multiplayer, play a friend on the same computer, a friend on two different computers, or Quick Match against random opponents.
Battleship Game Online Instructions
Note: The instructions below are for the old Adobe Flash game.
Type in your name (or a made-up name, like "Capt. Cool") then click the ENTER button.
Win the game by sinking all five of your opponent's ships before he sinks your ships. Battleship trains strategic thinking. Good luck!
If you like this game, you might also enjoy the other free online board games on this site, such as Connect Four.
Here, the Battleship board game has been remade as a cool, online version that you play against the computer. If you'd like to own the real game by Hasbro, check out this classic electronic Battleship set on Amazon. It makes a great birthday or Christmas gift.
HOW TO PLAY.  The object of Battleship is to sink your enemy's ships before he sinks yours.
Each player takes turns strategically guessing where their opponent's ships might be and shooting at those locations.
Both sides have one of each of the following ships:
Aircraft Carrier, five squares in size
Battleship, four squares
Destroyer, three squares
Submarine, three squares
Patrol Boat, two squares
Before the game begins, each player secretly places their five ships on their own 10x10 grid. Opponents cannot see each other's ship placements.
To place a ship, first select the ship by clicking on it. Drag the ship to a location on your board. You can rotate the ship by pressing the Right or Left Arrow keys. Click the ship to set it in place. Ships cannot overlap.
Once the game begins, you take turns with your computer enemy clicking empty spaces on each other's board. If you hit an enemy ship, an explosion occurs and you get another turn. If you miss, your turn is over and your enemy gets a shot at your ships.
COOL FACTS ABOUT BATTLESHIP. Here are some interesting facts about the classic Battleship game from Wikipedia.
Also known as Battleships, this game originated as a paper and pencil game before World War I.
The inventor, Clifford Von Wickler, never patented the game. Milton Bradley published it (still in pencil and paper form) in 1943.
The electronic version of Battleship was released by Milton Bradley in 1977 followed by the talking electronic version in 1989.
Today Battleship is available on mobile phones. In addition to this online version, there are also PC versions of the game.
I remember playing the electronic Battleship game as a child. I hope you enjoy this online Battleship game!
Kind regards,
Douglas Jobes
Memory-Improvement-Tips.com
About
Published: 01/22/2010
Last Updated: 06/11/2020