Snail Bob Game Collection - 6 Episodes - Play Free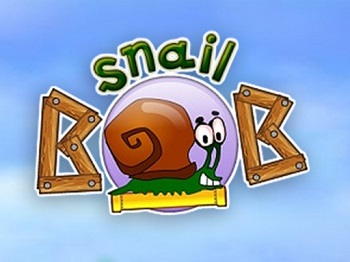 You'll like these Snail Bob games if you enjoy visual logic puzzles. Play free online now!
This game is part of the free online brain games collection.
To begin, click the Small, Medium, or Large button under the picture of the game. This opens the game in a pop-up window.
If you like this Snail Bob game, you might enjoy the other free platform puzzlers on this site, such as the Vex Games, Bob the Robber, and Fireboy and Watergirl.
There are six episodes of Snail Bob available on this page: Episodes 1, 2, 5, 6, 7, and 8.
Episode 1 is the original Snail Bob game. A construction project has destroyed his home. Help him escape the construction site. In Episode 2, Bob wants to attend his grandpa's birthday party, but a dangerous forest blocks his way.
Episode 6 is a love story; Episode 6 is a winter story; Episode 7 is a Snail Bob fantasy story; and Episode 8 is an island escape story.
Snail Bob Game - Instructions
The levels have various obstacles blocking Bob's way. You'll need to pull levers, push buttons, and so on in the correct order to allow Snail Bob to pass through.
Puzzle games like this Snail Bob game train important brain skills including problem solving, thinking speed, and mental flexibility. Play games like this often to give your brain a boost!
In explaining this game, I'll use Episode 1 as an example. In Episode 1, help the adorable Snail Bob escape the construction site and find a new home. Use your wits and logic skills to guide Bob through 20 levels of challenges.
To begin, click the Play button when the game finishes loading.
HOW TO PLAY. In Episode 1, Snail Bob's home has been demolished by a construction project. Your job is to help him escape the hazards of the construction site and find a new home.
This game consists of 20 levels of visual logic puzzles. Each level represents a different part of the construction site that Snail Bob is trying to navigate through.
The best way to get started in this game is to just begin. That's because the game developer included helpful built-in tutorial hints in the first few levels. So jump right in at Level 1. You'll do fine.
To activate levers, buttons, and so on, click them with your mouse. Some levers you need to drag with the mouse, sometimes in a circular fashion.
To stop Bob from moving, and cause him to go in his shell, simply click on him. This is useful if you need Bob to stay in one place for a few moments.
Snail Bob Options
When you first open the game, a few scenes of Bob's old home and his eviction are shown. You can skip this intro by clicking the Skip button.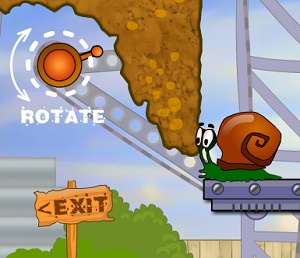 Example of rotating lever handle
To help Snail Bob move faster over open parts of the screen, click the x2 button in the upper left. This doubles his speed. Click the x1 button to resume his normal speed.
On the lower part of the screen are buttons that allow you to adjust the game quality (Q button) or mute the game sound effects and/or music. Your score is shown on the lower center of the game screen.
You have to complete the levels in order, but you can replay any level you wish. To replay a previously completed level, click the Level Map button and click the level you want to replay.
Published: 07/22/2017
Last Updated: 11/04/2021