Free Online Whack-a-Mole Game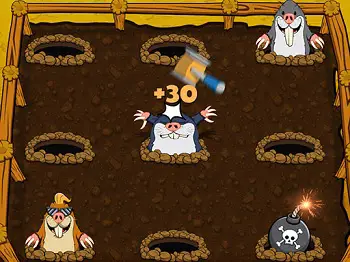 Play the whack-a-mole game Whack-em-All to boost your concentration. Earn points by whacking moles as they pop out of their holes!
The Whack-a-Mole games on this page are part of the free online brain games collection.
To begin, click the Small, Medium, or Large link under the picture of the game. This opens the game in a pop-up window.
NEW! Whack-a-Mole Multiplayer. Play whack-a-mole against a friend anywhere in the world. In the Whack-a-Mole with Buddies game, open a private game room. Email the game room link to your friend.
Then complete against your friend in a timed whack-a-mole game. Whoever gets the most points wins!
Instructions for Whack-a-Mole Game
HOW TO PLAY. The Whack-em-All online game is modeled on the traditional Whac-A-Mole game that has been around for years in arcades. If you've ever played that game in an arcade you know just how this works.
If you like this game, you might enjoy the other Concentration games on this site, such as Darts Pro Online.
A standard Whac-A-Mole game has five mole holes, but this Whack-a-Mole board has nine holes. This makes it a bit more challenging.
When the game begins, cartoon moles pop up randomly out of the holes briefly, then return to their hole. Your job is to knock each mole on the head with your hammer to force him back down in his hole. The hammer is also referred to as a mallet.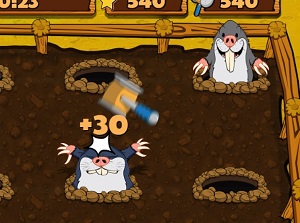 If you are too slow, however, the mole sinks back down into the hole on his own and you don't get points for him. To earn a high score you need to be focused and quick to hit as many moles as possible, as they appear.
When playing this game on a desktop computer, use your mouse to click on the mole and activate the hammer. On a mobile device, tap the mole to use the hammer.
This is a timed game. You have one minute to whack as many moles as you can. The timer in the upper left of the game shows how many seconds remain.
Moles are worth from 10 to 40 points each to start. If you are fast and accurate enough, you'll get a Super Hammer and more points per mole. I haven't quite figured this out yet, but I believe the more valuable moles are either more rare, or they don't stay above ground as long - maybe both.
In addition to the moles, there is an "inhibit" feature in this whack-a-mole game that makes it even more of a brain game. Watch out for the lighted firecrackers. Don't click those! Otherwise you'll lose 100 points or more.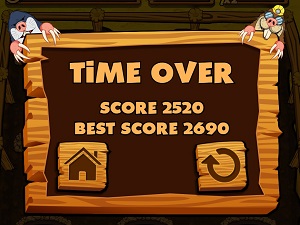 Doug's High Score: 2,690
OPTIONS. You can mute the sound of the whack-a-mole game by clicking the speaker icon in the upper right corner of the game. To restart the game, click the 'X' button to the right of the speaker icon.
Fast-paced games like whack-a-mole train important brain skills including concentration, visual perception, and reaction time. Play these games often to give your brain a boost.
The original Whac-A-Mole game was invented by Aaron Fechter and debuted in 1976. It is a redemption game, meaning that the game disburses tickets that can be claimed for prizes.
This online version of Whac-A-Mole doesn't give any prizes, though. It's just for fun and brain training.
My best score so far is 2,690 points. See if you can beat that! Feel free to post a screen image of your score in the Facebook Comments section below.
Published: 04/10/2020
Last Updated: 11/07/2022