Defend Your Castle Flash Game
Defend Your Castle Flash Game - Play Free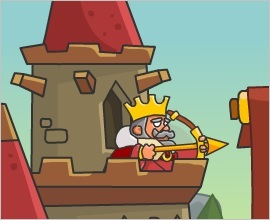 Looking for a defend your castle flash game to play online? You'll enjoy this castle defense game.
This game is part of the free online brain games collection.
To begin, click the Small, Medium, or Large button under the picture of the game. This opens the game in a pop-up window.
If you like this game, you might enjoy the other time management games on this site, such as Goodgame Empire.
Instructions - Defend Your Castle Flash Game
Note: The instructions below are for the old Adobe Flash game.
Set up your castle defense the best you can, then protect it from the invaders!
HOW TO PLAY. Wait for the game to load, then click the triangle Play button on the main screen to begin.
Then, on the Levels screen, click the level you want to attempt. You must start with Level 1 to unlock more levels. There are 10 levels in this castle game.
The object of this castle defense game is to set up and defend your castle against waves of invaders.
Between each wave, you have the chance to build up fortifications, arrow slits, and other defenses.
Your king sits in the middle of the castle. The castle is made of blocks that you can rearrange.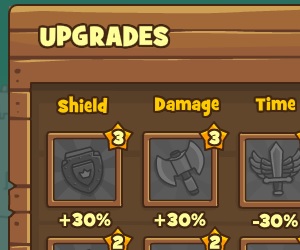 Upgrade Shield, Damage,
Time, Range, Coins
When the invaders attack your castle with their clubs and other weapons, the blocks wobble and fall.
As the invading army approaches, use your mouse to aim your arrows at the attackers.
If the invaders manage to knock down your king, the game is over. So you need to come up with the most effective attack and defense arrangement you can.
As you survive levels, you'll earn more and more stars you can use to purchase upgrades. For example, you might want to buy more powerful defense resistances, such as 10%, 20%, or 30% stronger. You can use upgrades to boost Shield, Damage, Time, Range, and Coins.
It goes without saying, each wave of invaders in this defend your castle flash game is more difficult to defeat than the previous one!
Castle defense games like this one train important brain skills including planning, strategy, and concentration skills. Play this game often to give your brain a boost.
Published: 04/27/2017
Last Updated: 06/11/2020