Card Match: Free Online Memory Game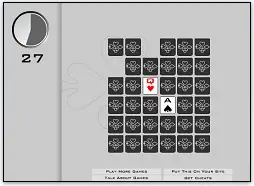 This free online memory game trains concentration and memory. Remove all cards by turning over identical pairs.
This game is part of the free online brain games collection.
To begin, click the Small, Medium, or Large button under the picture of the game. This opens the game in a pop-up window.
If you like this game, you might also enjoy the other memory improvement games on this website, such as concentration cards. The online games on this site are all free to play, anytime.
Free Online Memory Game Instructions
Note: The instructions below are for the old Adobe Flash game.
Click the "Play" link on the game, then pick the level of difficulty.
This is another example of the classic Concentration memory match card game that is played with actual cards. Playing memory match games is a fun, effective way for adults and children to improve memory.
HOW TO PLAY. Click any card to overturn it, then overturn another card. If both are the same they are removed. Only two cards can be overturned at a time.
All the cards are shown face up for about two seconds at the beginning of the round. After practicing Perfect Match awhile, I was able to consistently identify at least one pair during this short window of opportunity.
If you can do the same, it gives you a head start once the timer starts.
The timer is a very helpful feature. It instills a sense of urgency, which forces you to increase your concentration to the limit.
The first few times you play, you might not eliminate all the memory match cards before time runs out. Don't be discouraged. With just a little practice, you will get faster!
The theme for the Perfect Match card sets is "playing cards". If you've played memory match games before, you know that the pictures can be anything, as long as they are in pairs. In this case, they are the face cards from a standard card deck.
Cards can be any face card from any of the four standard suits. The two black suits are Clubs and Spades; the two red suits are Diamonds and Hearts.
For two cards to make a pair, they must match both suit and value. For example, the Ace (A) of Hearts plus the Jack (J) of Hearts does not make an exact pair. But the King (K) of Spades plus another King (K) of Spades does make a pair.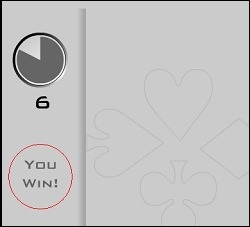 Perfect Math - win!
At right is a screen images showing what the Perfect Match board looks like when you win a round. The most useful piece of information is the time remaining on the timer (6 seconds in this case).
OPTIONS. Perfect Match has three levels of difficulty you can choose:
Level 1 (4 x 4). Sixteen (16) cards in rows of four. You have 30 seconds to clear all pairs.

Level 2 (6 x 6). Thirty-six (36) cards in rows of six. You have 60 seconds (1 minute) to clear all pairs.

Level 3 (8 x 8). Sixty-four (64) cards in rows of eight. You have 120 seconds (2 minutes) to clear all pairs.
Since this free online memory game only uses face cards, there will often be duplicate pairs. In other words, there could be four or six pairs of the Queen (Q) of diamonds. This actually makes creating the matching pairs a little bit easier than you might first assume.
If you haven't cleared the level when the timer runs out, click the Restart button on the lower left of the game to try again.
Note: Sometimes the Play button is partially covered by your remaining cards. I think this is a small bug in the game, but you can click between the cards to get past this.
As a mini "memory improvement" exercise, play Perfect Match five minutes a day for a week. Each time you win a round, write down the remaining time.
Compare your completion times as the week progresses. Hopefully you'll find it takes less and less time to clear the screen. That means your memory is getting better!
Published: 02/07/2011
Last Updated: 06/11/2020