Original Tetris Game - Play Free Online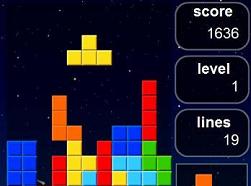 This original Tetris game knock-off has the charm of the first Tetris such as original music.
To begin, click the Small, Medium, or Large link, or HTML5/Mobile link under the picture of the game. This opens the game in a pop-up window.
Note: The HTML5/Mobile version Tetris Cube is an HTML5 game. It does not require the Adobe Flash Player. It is a similar game by a different game developer.
Original Tetris Game Instructions
If you've ever played Tetris before, this should be very familiar. Blocks of various shapes and colors drop one-by-one from the top of the game. Your goal is to completely fill rows of blocks at the bottom of the screen.
If you like this game, you might also enjoy the other online Tetris games on my Free Tetris Games Online page.
HOW TO PLAY. Each time a row is completed, the row disappears and all the blocks above it drop down one row. If there is a hole in a row where you failed to fit a piece, that row will not disappear.
Complete levels for points. Each level you advance is more difficult than the level before (blocks fall faster). The game is over if any block gets stuck at the top row of the screen.
CONTROLS. Press the Up Arrow key to rotate a piece. Use the Right and Left Arrow keys to move pieces left and right.
The Down Arrow key moves the piece downward faster. To drop a piece to the bottom instantly, press the Spacebar.
You can also have the option of starting at a higher level. Click the Question Mark button, then type a number in the "Skip to Level" box and click the Go! button.
This soundtrack for this original Tetris game is "Korobeiniki," the original Tetris theme song, of course. If you prefer not to listen to the song, click the speaker button on the game.
Brain games like this one train concentration, reaction time, and spatial orientation skills.
Published: 04/29/2010
Last Updated: 06/11/2020