Stack the Burger - Burger Builder Game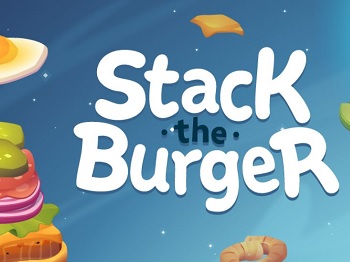 Stack the Burger is a fun burger builder game that improves short-term memory. Create the exact burger the customer orders.
This game is part of the free online brain games collection.
To begin, click the Small, Medium, or Large button under the picture of the game. This opens the game in a pop-up window.
If you like this game, you might also enjoy the Penguin Diner game.
Burger Builder Instructions
Note: The instructions below are for the old Adobe Flash game.
After the game loads, click the "Click Here" button.
Study the customer's order very carefully, then build their burger just how they want it.
HOW TO PLAY. The cook shows you the customer's order on a sheet of paper. You need to build the exact burger the customer wants.
The ingredients need to be in the same order, too.
After studying the order, click the "Click Here" button to begin making the order. The written order disappears and you have to recall it from memory.
Click and drag the ingredients to the burger. The bottom bun is already on the table. You need to drag from the other ingredients on the right side of the screen.
Ingredients include:
Lettuce
Cheese
Burger Patties
Pickles
Onions
Tomatoes
Catsup, Mustand, and Mayonnaise
As you complete each round, the burgers get more complicated. What a good workout for your brain!
Published: 04/08/2008
Last Updated: 06/11/2020