Free Bejeweled Game - Jewel Legend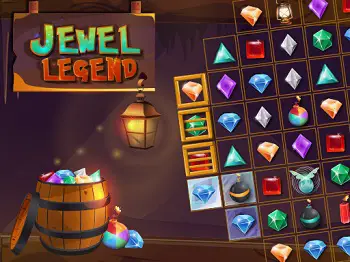 The Jewel Legend free bejeweled game is a colorful brain game that improves concentration and thinking speed. Move individual jewels to form "three-in-a-rows".
This game is part of the free online brain games collection.
To begin, click the Small, Medium, or Large button under the picture of the game. This opens the game in a new window.
Look for pairs of the same jewel, especially if another jewel of the same kind is nearby. "Swap" jewels next to each other so that a three-in-a-row or higher is formed.
Instructions - Free Bejeweled Game
Also playable from this page is Jewel Magic, a bejeweled game with 120 unique levels of challenges!
Note: The instructions below are for the old Adobe Flash version of the game.
If you like this game, you might also enjoy the free Jewel Quest game on this site.
HOW TO PLAY. Once the game loads, click the purple Play button to start the game. The next screen that appears is the Levels screen.
Click the level you want to work on. This jewel game has 100 free levels for you to solve!
A three-in-a-row can be created either vertically in a column or horizontally in a row.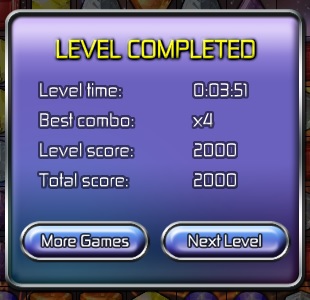 Level Completed
To swap two jewels, simply click the first jewel, then click the jewel you want to swap it with. Only jewels that are next to each other can be swapped.
When you make a three-in-a-row, those jewels disappear and the columns and rows fill in with new jewels from above.
Also, a swap is not allowed if it will not form a three-in-a-row. If you are really lucky and clever, you can sometimes form a four-in-a-row or even a five-in-a-row!
If too much time passes, the game automatically gives you a hint. The hint is a jewel that shines briefly on the board and which can be used to make a three-in-a-row.
To complete a level and move on to the next one, you need to gain enough points to get the power bar on the left side of the game up to the top.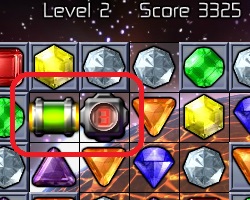 Special Gem Power-ups
You can get extra points if you make four-in-a rows and better. So look for that opportunity whenever possible.
Quite often, you'll see special gems that are extra-powerful. Make a swap using these special gems to remove entire rows or groups of gems at once for lots of points. Keep an eye out for those.
If you're unlucky, you'll run out of possible combinations before completing the level. In that case, the game will be over. Of course, you can play again if you wish.
Be sure to turn on your speakers to hear the sound effects!
This free bejeweled game is not only good for your brain, it's addictive and fun as well.
Published: 11/21/2009
Last Updated: 06/11/2020