Big Shot On-Line Checkers
NOTE: This is an old Adobe Flash game. It no longer works.
Please visit the Free Online Brain Games page for the current online games.
Big Shot on-line checkers is a fun variation of regular checkers. With one exception: your Big Shot character rides on top of one of your pieces!
To begin, click the Small, Medium, or Large link under the picture of the game. This opens the game in a pop-up window.
Big Shot Checkers Instructions
After the game loads, click START!, then the PLAY!, PLAY NOW! buttons.
Beat your opponent "Bloo" or "Mac" at checkers, and you'll dance a little jig with a crown on your head. If you like this game, you might also enjoy my Free Internet Checkers and Checkers Online Game pages.
HOW TO PLAY.  This Big Shot on-line checkers game plays like the regular checkers board game but with a huge twist: the Big Shot!
Regular pieces can only move forward. Kinged pieces and your Big Shot piece can move in any direction.
You can jump and take your opponent's pieces only when one of his pieces is not doubled up (just like regular checkers).
There are three ways to win:
Capture all of your opponent's pieces

Block in your opponent so they have no moves left

Get your Big Shot to king row.
OTHER RULES. If you are able to jump over an opponent's piece and capture it, you must do it. Your piece will flash as a reminder that you have to take the jump.
Get a piece to king row, and it becomes a King piece which can move forward or backward.
Your Big Shot piece can always move forward or backward. Or your Big Shot can swap places with any of your pieces next to it.
To move your Big Shot to another piece, first click the piece where he is standing, then click the piece you want to transfer him to.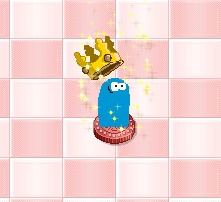 Big Shot Winner Gets the Crown!
Some people don't find checkers to be intellectually challenging, but I've always liked the game.
There are definitely "good moves" and "bad moves" and strategies for winning.
Checkers might not be in the same league as chess, but it is a game that stimulates your mental muscles.
FUN FACT ABOUT CHECKERS. "Checkers" is the name used for this game in America.
In Britain and other countries, the game is referred to as "draughts" (pronounced drofts). Checkers is an old game, going back to at least the Middle Ages.
Checkers trains concentration and strategic thinking. Enjoy!
Published: 09/18/2010
Last Updated: 06/11/2020