Governor of Poker 3 - Free Flash Poker Game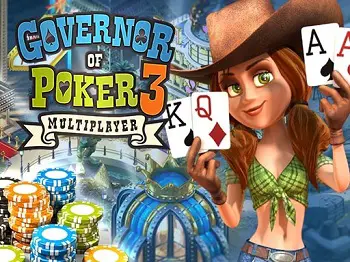 In this free flash poker game, play poker against the computer! It's Governor of Poker 3.
This game is part of the free online brain games collection.
To begin, click the Small, Medium, or Large button under the picture of the game. This opens the soccer game in a pop-up window.
If you like this game, you might enjoy the Hearts card game.
Free Flash Poker Game - Instructions
Texas Hold'em is a popular variation of the "poker" card game. Each player is dealt two hole cards. Shared community cards form the remainder of the player's hand.
There's more to this free game than playing poker, though. Use your winnings to buy houses and other properties across Texas, and become the Governor of Poker!
Card games such as pokertrain brain skills like mathmatical reasoning and visual perception.
HOW TO PLAY. After the poker game loads in the pop-up window, click the Play button on the Main Menu screen to start the game.
The first step is to choose the difficulty level - Easy, Medium, or Hard - based on your card playing skill and how much you want to be challenged.
Note: This online flash poker game has a large file size (about 6MB) and may take a few moments to load, especially on a slow connection.
Next, name your card player. Since the game is set in the Wild West, think of a cool cowboy name like "Buffalo Pete" or "Wild Joe Franklin".
Or just type in your actual name; it doesn't really matter. Then choose whether your card shark is male or female by clicking on the cowboy or Western dame.
Unlike card solitaire, poker is a multi-player card game. In this flash Texas Hold'em game, all the other players are computer players.
They might be AI, but some of them are pretty good card players. Don't assume you're going to win every hand. You won't!
Basic Poker Game Play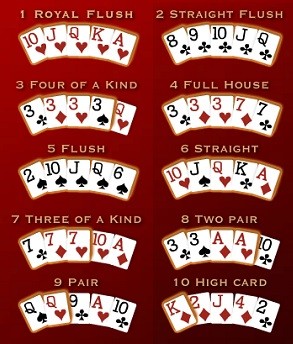 Hand Rankings in Texas Hold'em,
from highest value (Royal Flush)
to lowest value (High Card)
If you've never played poker or Texas Hold'em in particular, here's the basic concept in brief:
The idea of poker is to win "hands". These are rounds of play where cards are dealt and betting by each player is done.

If you don't think you can win with the cards you are holding plus the community cards, you can choose to "fold" which means quit the hand.

If you fold, you lose any money you've put in that pot.

At the end of the hand, the player with the hand worth the most points receives all the money currently in the pot. This free flash poker game works exactly that way.
To be a successful poker player (in real life and in this free flash poker game), you want to win more money than you lose, over time. In poker and other betting card games, a skilled player doesn't expect to sweep every hand, however.
Rather, keeping losses low and winnings high, the goal is to walk away from the poker table at the end of the night with a bigger chunk of change than you started.
Finding a Poker Game
When this flash poker game begins, your character is in a dinky Texas cowboy town called San Saba in front of your Home, a small shack. You start on Day 1 with $600 cash.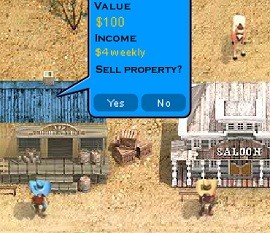 Use your poker winnings to buy property
To proceed through the levels of this flash poker game, you need to buy up all the property in every town. To raise enough money to do so, win local poker tournaments in each location.
The first time I played, I decided to spend $100 right away to purchase the home of Tom Tyler Boots, located next door to mine. This provided an immediate small $4 weekly income which I could use to ante or bet in poker games.
Next I walked my character over to a saloon owned by Quinn "B" William. He mentioned a poker tournament was about to start, with a $110 buy in, and did I want to join?
Clicking "Yes" subtracts $110 from your cash and lets you into the building for the poker tournament. This free flash poker game is well designed, in that it walks you through each step of the poker game.
Briefly, you and the computer players sit around a poker table. A dealer deals out two hidden "hole" cards to each player. You can see your two cards, but the hole cards of the other players are face down to you.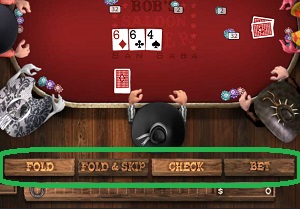 Poker Game - Betting Options
Then rounds of betting start. During betting, you can Call (match the other player's bets), Raise, or Fold your hand.
Betting occurs after the hole cards are dealt, then after the first three community cards are dealt in the center of the poker table face up. These three cards are called the Flop.
You then can bet after the next community card (called the Turn), and the final community card (called the River) are dealt. Just follow along with the other players, and you'll get the hang of this flash poker game pretty quickly.
To view details about the other poker players, review game instructions, and other options, hover your mouse over the Down Arrow at the top of the flash game screen. This displays a pull-down menu with several tools.
These options include leaving the game, adjusting the game speed, viewing details about the top players in the poker tournament, the chart ranking the value of winning hands (Flush, Full House, Three of a Kind, etc.), and sound and language configurations.
This is a demo version of the Governor of Poker flash game. There is plenty of great content in this free online game, but there's an option on the Main Menu screen to purchase the premium version of the game if you're interested.
Of course, none of this is for real money. Governor of Poker is just an online flash game where you play Texas Hold'em poker against a variety of computer players.
This free flash poker game is challenging and a great brain game, nevertheless.
Card games including poker really put your brain to work. In fact, research has linked playing card games to better memory and larger brain volume.
Besides strengthening your brain's cognitive reserve, poker and other card and tile games are simply a lot of fun.
Published: 01/06/2015
Last Updated: 09/28/2023