Free Tennis Game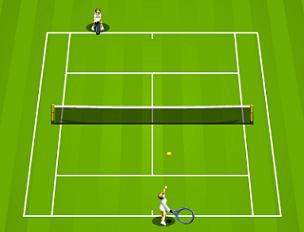 Here's a online free tennis game you play against the computer. Sports games like this train concentration and reaction time.
To begin, click the Small, Medium, or Large link, or HTML5/Mobile link under the picture of the game. This opens the game in a pop-up window.
Note: The HTML5/Mobile version is an HTML5 game. It does not require the Adobe Flash Player. It is a similar game by a different game developer.
Free Tennis Game Instructions
Tennis games like this one train important brain skills like concentration, visual perception, and reaction time. Play against pro tennis player opponents in practice exhibition mode or tournament play.
If you like this game, you might also enjoy my Mario Table Tennis and Flash Curve Ball pages.
This game has sound effects, so turn up the volume on your computer before starting the game.
HOW TO PLAY. Play singles against famous tennis professionals like Graf, Sabatini, and Navratilova.
Imagine you're at Wimbledon competing in individual exhibition matches or a real tournament!
(1) Exhibition Play. Click the "Exhibition" button when the game loads to enter exhibition mode.
This means you play one singles match versus one opponent.
(2) Tournament Play. Click the "Tournament" button when the game loads to enter tournament mode.
A tennis tournament is where the winners of matches compete with other winners to determine the eventual overall champion.
PLAYER SELECTION. If you choose Tournament mode, you will need to select your player before the match. The Select Your Player window appears, where you can select which tennis pro you want to be.
 
Each player has different strengths and weaknesses.

As you hover your mouse over each player's name, their proficiency at forehand, backhand, serve, and footwork displays in a bar chart at the bottom of the window.

Once you've decided which player you want to play, click their name to find out who you are seeded against for the first match of the tournament. Click the Spacebar on your keyboard when you are ready to begin the match.
CONTROLS. Matches are three games in length, or the first player to win by two games. To serve the ball, press the Spacebar once to make your toss, then again at the height of the toss to hit the ball.
During a rally, hit your ground strokes and other strokes by pressing the Spacebar.
Use the Arrow Keys to direct your strokes. For example, to hit towards the opponent's right sideline, hold down the Right Arrow key when you press the Spacebar. The Arrow Keys are also used to move your player around the court:
Up Arrow. Moves your player toward the net. Hold down this key during strokes to hit a deeper volley. Hold it down at the net to hit an overhead slam.

Down Arrow. Moves your player toward the baseline.

Right Arrow. Moves your player toward the right sideline. Hold this key down when serving to aim for the right side of the service box.

Left Arrow. Moves your player toward the left sideline. Hold this key down when serving to aim for the left side of the service box.
As with the Mario Table Tennis game, I found this free Tennis game to be very challenging at first. But with practice, my concentration really kicked into gear and I got much better with the keys and my reaction time.
I've won several games, but not any matches yet. I guess I need more practice.
Update: I finally won a match! It was a grueling battle in Exhibition mode but in the end I put my opponent away 6 games to 4.
Sports-related games like this free tennis game often make good brain games. That's because they usually require intense concentration.
By improving your concentration, you can better remember the things you read and hear.
Before something can be remembered, it must first register in your brain.
Published: 10/13/2010
Last Updated: 06/11/2020