Free Practice Typing Game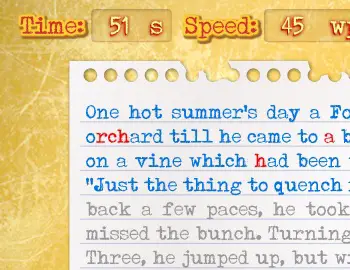 Typing Tidepool is a practice typing game that trains brain skills like concentration, visual attention, and reaction time. The faster and more accurately you type, the faster your dolphin goes!
To begin, click the Small, Medium, or Large link, or HTML5/Mobile link under the picture at left. This opens the game in a pop-up window.
Note: The HTML5/Mobile version Typing Speed Test is an HTML5 game. It does not require the Adobe Flash Player.
Typing Tidepool Instructions
Note: Be sure to turn on your speakers to hear the sound effects.
If you like this game, you might enjoy the other free online typing games on this site, such as Air Typer, Alpha Attack, and Piano Bar.
HOW TO PLAY. Ride your dolphin in a race against other competitors. Type the red letters in the box at the top of the game.
Typing the word correctly makes your dolphin swim faster. If you type the word wrong, your dolphin slows down.
Note: One letter typed incorrectly makes you lose the word. That means typos really hurt you in this game, so type accurately as well as quickly.
That's just what you want in a practice typing game. It not only helps you become a faster typist, you also learn to make fewer mistakes.
Your dolphin is the one with the upside-down triangle above it. As you complete each word, your dolphin moves forward and the points for that word appear in the Score box.
You don't need to press Enter after each word, just start typing the next word when it appears.
For the most points, type several words in a row correctly. This is called a "combo" which diplays in the Combo box in the upper right.
OPTIONS. This typing game doesn't have any controllable options that I could find. There isn't any way to turn off the sound in-game for example.
Typing Tidepool provides 20 levels of typing practice. At lower levels the words are shorter and your competitors are slower.
As you complete each level, your typing speed for completing that level displays under the appropriate column. For example, if you finished Round 1 of the 400 meter relay in 41.92 seconds, "00:41:92" shows in that column.
I enjoy brain games like this typing game that not only train your brain but are fun and visually appealing. It makes brain training less of a chore and more like entertainment.
Published: 10/31/2010
Last Updated: 06/11/2020