Flash Tic Tac Toe - Multiplayer Option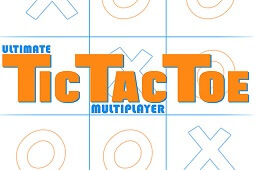 This flash Tic Tac Toe Deluxe game trains strategic thinking and pattern recognition. Play vs. the computer or against a real person.
To begin, click the Small, Medium, or Large link under the picture at left. This opens the game in a pop-up window.
This is an HTML5 game, even though "Flash" is in the title of this page (the page was created awhile ago). It does not require the Adobe Flash Player.
Flash Tic Tac Toe Instructions
Wait for the flash tic tac toe game to load. Select which game type to play, then click the "Click Here to Begin Game" button.
If you like this game, you might also enjoy my Free Connect Four page.
HOW TO PLAY. You probably played the three-by-three version of tic tac toe as a child. This Deluxe version of flash tic tac toe offers far more.
In tic tac toe, two opponents try to be the first to have their pieces in a row on the game board. One opponent plays X's, the other plays O's.
For example, on the three-by-three tic tac toe board, the first player to have three X's or three O's in a row is the winner. The X or O "rows" can be horizontal, diagonal, or vertical to win.

You can play this version of the game either against the computer or against a human opponent.
In addition to the regular 3x3 grid, you can choose to play these advanced levels:
- 4x4, Draw 2 - First four-in-a-row wins
- 6x6, Draw 1 - Most four-in-a-rows wins
- 6x6, Draw 2 - Most four-in-a-rows wins
- 8x8, Draw 2 - Most four-in-a-rows wins

With all these options for play, the simple game of tic tac toe can actually be quite challenging!
Kudos to Anthony at ATK Solutions for designing the Flash version of such an incredibly cool Tic Tac Toe game.
The brain skills used during tic tac toe are useful during any activity where problem solving, reaction time, and analytical thinking are needed.
Game distributed by ATK Solutions Inc. Used with Permission.
You May Also Like
If you found the page above interesting, fun, or useful, please click the "Like" and/or "Share" button below. Feel free to leave a comment as well. Thanks very much!