Super Stacker - Free Online Brain Game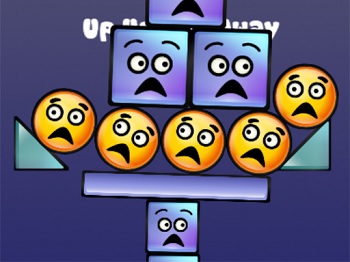 In Super Stacker, quickly stack fun shapes before the timer runs out. This puzzle game has 40 levels and trains concentration and analytical ability.
This game is part of the free online brain games collection.
To begin, click the Small, Medium, or Large button under the picture of the game. This opens the game in a pop-up window.
Super Stacker 3. After almost a decade Super Stacker returns with fun new levels to challenge your problem solving and stacking skills.
Super Stacker 2 Instructions
If you like this game, you might also enjoy Fruit Ninja.
Note: The instructions below were written for the old Adobe Flash version of the game.
HOW TO PLAY. Finish all the stacks to unlock Bonus Mode. Super Stacker 2 also has a Stack Editor feature that you can use to make your own custom stacks.
I hope you enjoy this very cool brain game!
Note: The sound effects are cool, so turn on your speakers.
To start playing, click the "PLAY GAME" button on the main screen. Move through the 40 levels from easy to hard, stacking shapes as you go.
At each level you are presented with a series of shapes such as squares, wedges, circles, and so on. Stack them in order on the platform at the bottom of the screen.
Balance the shapes very carefully or your stack tips over and you fail the level. You can tell when your stack is getting unbalanced because shapes start to slide from one side to the other.
Once the first shape drops off your stack, the level is over and you have the chance to try again.
The easy stacks don't take very long, but once you get to the Mediums you'll have to use your brain a bit. In each level, the shapes are given to you in a specific order.
The shapes are shown at the top of the screen (including the size of each shape) so you can plan how you are going to stack them.
Most levels provide a hint. For example, the hint "Build a school bus" gives you a general idea of how to stack the shapes so they don't fall over.
Published: 06/13/2010
Last Updated: 06/11/2020