Guitar Concentration Game - Free Online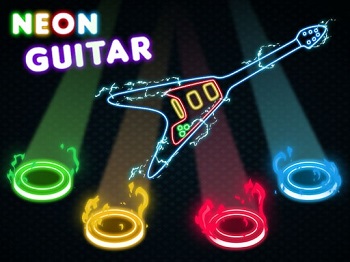 Here's an awesome guitar concentration game. Hit the guitar notes just right!
This game is part of the free online brain games collection.
To begin, click the Small, Medium, or Large button under the picture of the game. This opens the game in a pop-up window.
If you like this game, you might enjoy other free concentration games, such as Penguin Diner.
Guitar Concentration Game - Instructions
From the Game Developer: Neon Guitar is a musical game designed for everyone's enjoyment. Hit as many notes as fall on the screen to accumulate points and beat your highscores. Great game to train your reflexes and have fun at the same time.
After the game loads, click the Skip button (or just wait a moment). The guitar game's main screen loads which shows "easy", "normal", and "hard" at the bottom.
Controls: On desktop, press the A-S-K-L keys. On mobile, press the A-B-C-D buttons and the "+" buttons for A-B and C-D. On a gamepad, press LT-LB-RB-RT.
NOTE: The instructions below are for the old Adobe Flash version of the game.
To get started, all you have to do is pick your level of difficulty, choose your guitar, and pick a song to play.
On the main menu, you'll find the selections Easy, Normal, and Hard. If you've never played before, start with Easy mode.
In Easy mode, you'll only need to play the guitar with the ASD keys on your keyboard. In Normal and Hard mode, you'll have to play with both hands - ASD and JKL keys.
If you try to play the notes with your keyboard keys but keep missing every note, this could be the problem. Just click the game screen once, then your keyboard presses should register.
After you select the difficulty, song, and guitar style (and keyboard style), the song you picked starts playing. Also, you'll see notes coming down from the top of the screen.
When a note reaches the bottom row, press the letter matching that column. For example, when a note reaches the "A", press A on your keyboard.
You can actually play this game with a friend in the room! Simply choose Normal or Hard mode.
This will cause guitar notes to fall in the JKL columns on the screen as well. So you can play the ASD keys, and your friend can play the JKL keys - on the same keyboard.
Concentration games like this guitar game train important brain skills including focus, concentration, and attention span. Play games like this one often to give your brain a boost!
Published: 04/10/2020
Last Updated: 04/06/2023