Trivia King - Free Trivial Pursuit Game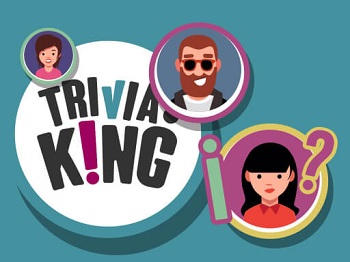 Welcome to Trivia King! With this free Trivial Pursuit type game, test your trivia knowledge while racing against the clock.
This game is part of the free online brain games collection.
To begin, click the Small, Medium, or Large button under the picture of the game. This opens the game in a pop-up window.
If you like this game, you might enjoy other free word games, such as the
Microsoft Word Games
collection.
Free Trivial Pursuit Game - Instructions
From the game publisher: How good is your general trivia knowledge? Compete with friends in this fast-paced, rapid fire multiplayer trivia quiz.
Answer questions from topics such as general knowledge, pop culture (such as Star Wars, James Bond, Spiderman, Marvel, Bourne Identity), history, science, arts, music ( Beatles, Sting, Adele ), film, internet and more.
Best of 10 rounds wins. Features: Two game modes: play with friends or play with a computer AI - Avatar selection.
NOTE: The instructions below are for the old Adobe Flash version of the game.
Each round of this game consists of six Trivial Pursuit questions. Click the "Start the Game" button to begin.
HOW TO PLAY.  Your goal is to earn all six slices. Do this by correctly answering a question from each of the six Trivial Pursuit categories.
The six categories are Geography (blue), Entertainment (pink), History (yellow), Arts & Literature (brown), Science & Nature (green), and Sports & Leisure (orange).
Click the "Continue" button to display the first question and start the timer. You have 15 seconds to answer each question.
To answer a question, simply click the correct answer from the four answers displayed on the screen. At the end of the game, you receive a Rank based on the number of questions you answered correctly.
Click the "Play Again" button for a new set of questions. Or click the "Go to Game" button to play the full version of Trivial Pursuit at Pogo.com.
Free Trivial Pursuit Trivia
In the spirit of trivia appreciation, here are some random facts about Trivial Pursuit from Wikipedia:
Trivial Pursuit was invented in 1979 by newspaper and magazine editors Scott Abbott and Chris Haney. According to legend, pieces of their Scrabble set were missing, so they decided to come up with their own game.

Question sets are available for specific genres such as Star Wars and Lord of the Rings trivia.

In 1984, at the height of the game's popularity, over 20,000,000 sets were sold.

In 2008, the Hasbro toy company bought the rights to Trivia Pursuit from Parker Brothers for $80,000,000 US.

The original version of Trivial Pursuit is referred to as the Genus Edition (not "Genius" edition, as a recent visitor to this page pointed out).

Many more editions have been created and sold over the years.
The Trivial Pursuit board game is a lot of fun and is usually available wherever board games are sold. If you've never played, I highly recommend you try it!
This free Trivial Pursuit Blitz game and the real Trivial Pursuit board game are both excellent brain games, very useful for testing your memory for random facts.
Published: 04/29/2010
Last Updated: 05/16/2023