Jewel Quest Online Game - Play Free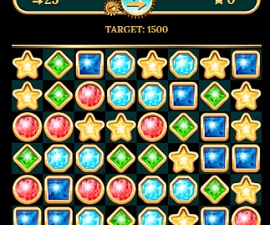 If you like jewel-hunting games, you'll enjoy this free Jewel Quest online game. The object of Jewel Quest is to form three-in-a-rows for maximum points.
This game is part of the free online brain games collection.
To begin, click the Small, Medium, or Large button under the picture of the game. This opens the game in a pop-up window.
If you like this game, you might enjoy Garden Tales.
Jewel Quest - Instructions
Note: The instructions below are for the old Adobe Flash game.
Jewel-matching games train important brain skills, such as concentration and visual perception.
In Jewel Quest to advance past each level you need to flip over all the tiles on the board. See below for instructions.
This free version of Jewel Quest includes multiple levels of jewel hunting.
Play this game and other online games like it often as part of your own custom brain training program.
HOW TO PLAY. This Jewel Quest online game follows the same basic rules as other jewel hunting games. The object is to earn points by forming three-in-a-rows (or higher) of matching jewels and gold objects.
To switch the location of two adjacent objects, click the first object then the second object.
When you open the game, the board displays a random mix of jewels and gold objects. Your job is to quickly examine the Jewel Quest board and determine where possible three-of-a-kind matches exist.
Sometimes you can match four-of-a-kind or five-of-a-kind if you really pay attention.
Three-in-a-rows are most common match you'll be making in this Jewel Quest online game. There's no real incentive to go for longer matches. Unlike in the Candy Crush online game, I don't think you get any extra points for four-in-a-row or five-in-a-row in Jewel Quest.
In a potential three-in-a-row situation, you'll see 2 matching jewels next to each other with a third jewel of the same kind out of line by one row or one column. To create the three-of-a-kind, click that third jewel into line with the other 2 jewels.
How to Advance to Higher Levels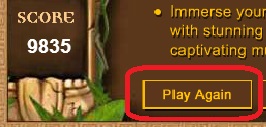 Click the PLAY AGAIN button to
advance to the Next Level
The first time I played this Jewel Quest online game, I didn't realize it had multiple levels. But it does!
What you need to realize is that to proceed past your current level, you need to flip over all the tiles on the board.
To do this, you must include every space on the board in at least one of your three-in-a-row matches. In other words, to flip a black tile and turn it gold, create a three-in-a-row that includes the jewel or gold object located on that black tile.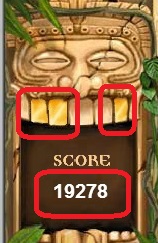 As you play, try thinking a few steps ahead. Figure out what combination of moves will allow you to flip the remaining black tiles. As I mentioned above, to reach the next Jewel Quest level, you need to flip over all the tiles on your current level before the Timer runs out.
Your running score displays on the "score screen" that appears at the end of each level of this Jewel Quest online game. To access the next level and keep your current score, click the Play Again button on the score screen. (Assuming you flipped all the tiles on the previous level.) The Download button on the score screen didn't work when I tried it, by the way.
As long as you keep clearing screens, your score will be preserved as you advance to the next higher level. I was able to reach Level 4 with a score of 19,278.
Your current level number isn't displayed anywhere, although for each level that you complete a tooth in the stone carving turns to gold.
Buried Relics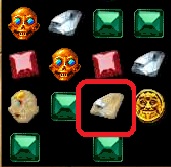 On Level 2 or 3 of the Jewel Quest online game, you'll start seeing "relics" buried under sand. The relics are the same diamonds, rubies, gold masks, and gold coins as usual, except they can't be moved until you uncover them.
To uncover a relic, you have to include it in a matching three-of-a-kind. Line up identical relics next to it to uncover the relic.
Uncovering relics can be tricky. Because the relic is fixed in its position, you'll need to plan ahead. Examine the pattern of jewels above the relic, and try to create matches that drop jewels down that are of the same type as the buried relic.
For example, suppose you want to uncover a Diamond relic. Well, you need to drop down some diamond jewels or move some diamonds sideways (by making three-of-a-kinds with other types of jewels) near to the relic. This requires a little practice, but it can be done.
Other Features of Jewel Quest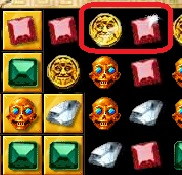 HINTS. If you stare at the screen too long without making a move, the Jewel Quest game gives you a hint. Gems that would form a three-in-a-row if switched sparkle briefly, so you can at least get a few points as you look for better matches.
TIMER. The all-important timer bar at the bottom of the game shows the amount of time remaining. Remember, to advance to the next level while preserving your score, you MUST flip over all the tiles on the board before the timer runs out.
Why Is Jewel Quest a Brain Game?
Online games like Jewel Quest are so much fun to play that they almost don't seem like brain games. But they certainly are, as researchers have found. Brain games can improve brain skills, but usually they only enhance the brain abilities actually used in the game.
In other words, since Jewel Quest doesn't require using your memory, your memory won't be improved by playing it. You'll want to play memory improvement games for that.
To improve other brain skills like verbal fluency and math ability, be sure to play the free games in other brain games categories listed on the right side of this page.
Quickly identifying three- and four-in-a-rows does require you to focus intently and react quickly to the ever-changing configuration of the board.
If you play Jewel Quest and other jewel-hunting games regularly, there's a good chance you can improve your attention span and your ability to quickly identify patterns.
If you like this Jewel Quest online game, you'll probably enjoy my Bejeweled game page. That game includes multiple levels of jewel-matching fun as well. Give it a try!
Published: 12/31/2013
Last Updated: 06/11/2020