Super Tetris - Free Tetris Online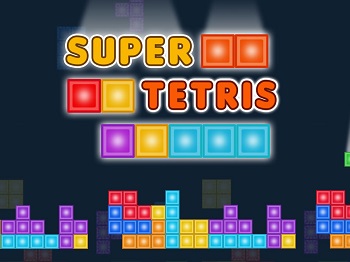 This free Tetris online is a cool variation of the classic Tetris game. Regularly playing Tetris has been shown to increase brain efficiency.
This game is part of the free online brain games collection.
To begin, click the Small, Medium, or Large button under the picture of the game. This opens the game in a pop-up window.
If you like this game, you might enjoy other puzzle games like Super Stacker and Microsoft Jigsaw.
Free Tetris Online Instructions
Description from the Game Developer: Super Tetris is a casual game where the blocks fall and must be placed in the empty spaces.
Fit blocks and form an entire line to destroy lines of blocks and earn points. Accumulate combos by destroying consecutive lines and try to win with as many points as possible.
This game is inspired by the acclaimed Tetris, one of the first games ever created. The graphics are colorful and beautiful and the animations are exciting. Good luck and good fun!
Tetris Rules. The object of this free Tetris online game (like with all Tetris games) is to stack the falling blocks in such a way as to leave no gaps.
Each time you complete a row, that row disappears and the overall level of the blocks falls.
If you like this game, you might also enjoy the other free Tetris games on this site, such as Droptris, Tetris Fruit Drop, and Original Tetris.
HOW TO PLAY. As you play, the blocks start falling faster. You lose once the blocks reach the top of the game screen.
GAME CONTROLS. Click the "START!" button to begin. Press the Up Arrow key to rotate the blocks.
Press the Right and Left Arrow keys to move the blocks from side to side. To quickly drop a block, press the Spacebar.
To change game options such as game difficulty, background music, or key functions, click the OPTIONS button on the menu.
I hope you enjoy playing free Tetris online!
From Wikipedia:
According to Richard Haier, prolonged Tetris activity can lead to more efficient brain activity during play.

When first playing Tetris, brain function and activity increases, along with greater cerebral energy consumption, measured by glucose metabolic rate.

As Tetris players become more proficient, their brains show a reduced consumption of glucose, indicating more efficient brain activity for this task.
It sounds like Tetris really gives your brain a workout.
Published: 04/29/2010
Last Updated: 08/04/2023