Vex Games - 5 Episodes - Play Free Online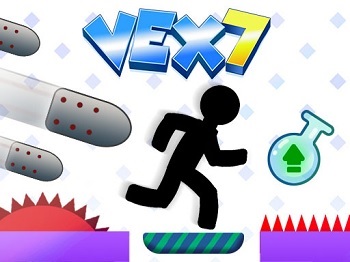 These Vex games are super-fun stickman puzzle games. Train your concentration and reaction time while having fun!
These Vex games are part of the free online brain games collection.
To begin, click the Small, Medium, or Large button under the picture of the game. This opens the game in a pop-up window. There are five versions of Vex available on this page: Vex 3, Vex 4, Vex 5, Vex 6, and Vex 7.
In Vex, you are a simple stickman trying to escape the traps that surround you. Run, jump, slide, and climb your way through each level. The levels are called Acts, as in Act 1, Act 2, Act 3, and so on.
Use the WASD keys or Arrow Keys to move your stickman. Just start playing, and you'll see that in-game instructions are provided as you move along.
If you like the Vex games, you might enjoy other platform puzzle games including Bob the Robber, Snail Bob (no relation

), and Fireboy and Watergirl.
Vex Games - Instructions
The idea of Vex is to escape traps to solve each level. You get unlimited lives, so be bold and jump right in.
NOTE: Once you complete an Act, your stickman respawns next to the entrance of that Act. Go to the next Act by traveling elsewhere on the screen. You can re-enter the same Act if you want a higher score, but to move on you need to find the entrance to the next Act.
For example, after you complete Act 1, do not re-enter the Act 1 box unless you wish to repeat that level. Instead, run elsewhere on the screen and locate the Act 2 entry box.
Rather than having a separately displayed tutorial, these Vex games instruct as you go along. For example, in Vex 3, the first instruction (which appears in Act 1) says, "Move with the arrowkeys or WASD."
Following that, you'll see "Jump from side to side to get up" a wall. Then, "Play new Acts by standing on their Act block." These are like starting points and are labled Act 1, Act 2, and so on.
Some other "getting started" instructions:
"Press down to enter stage, Follow the arrows to reach the end, While running, hold down to slide, Purple blocks are quite weak, Orange blocks bounce you really high, and You can look around the stage while standing still."
As you make progress through each Act (each level), you'll reach periodic checkpoints. If you get caught in a trap, your stickman regenerates at the most recent checkpoint you completed.
Vex Games - Individual Details
Vex 7. Play Vex 7, an online game packed with action and a unique style. Use parkour moves to leap across the deadly obstacles with your stickman. Avoid the spikes, shooting knives, and falling blocks. Use the double jump potion to go places you couldn't reach before, and avoid security cameras that trigger laser beams.
Vex 6. VEX 6 is a new addition in the series of this stickman-parkour-platformer! Jump and slide your stickman through 9 new Acts and 9 new Hard Acts.
Vex 5. An all new Vex installment, finally version 5 is here for you to play. With new levels, achievements, and traps to explore, you're bound to get vexed.
Vex 4. Vex 4 takes Vex to the next level. This fast paced stickman game puts your skills to the test. Run, jump, slide, swim and avoid obstacles. Vex 4 has it all. Complete 9 acts, 9 hard modes, Vexation, and the Challenge Room.
Vex 3. In Vex 3 HTML5 you must avoid traps, run, jump, slide and swim through 10 levels and 9 extra challenge modes.
Each Act ends with it's final stage to complete: 'Vexation.' Make sure to collect the coins on your way to unlock 64 different skins for your stickman.
You want to earn extra coins? Then come back to VEX 6 every day to complete the daily tasks and play the daily bonus level. VEX 6 is visually stunning as it's now running on a higher resolution and 60fps!
Game Options
Each version of the game also has various Options that you can configure. In Vex 3, you can access these options in the lower left of the game. In the other versions, an Options screen can be accessed by clicking the "Pause" button (two vertical lines).
The available options vary a bit from version to version, but muting the sound is one of them.
There are also Trophies you can earn. In Vex 3, for example, it's possible to earn four trophies, including Standard Acts and Awesome stuff.
Stickman puzzle games like these Vex games train important brain skills including logical reasoning, concentration, and reaction time. Play these games often to give your brain a boost!
Published: 5/1/21
Last Updated: 11/04/22