Candy Time - Candy Crush Game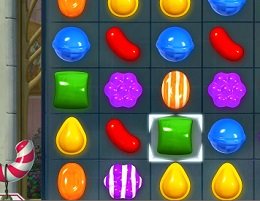 Candy Crush is a popular web game similar to Bejeweled. In this similar Candy Time game, line up pieces of candy in three-in-a-rows to clear the screen.
This game is part of the free online brain games collection.
To begin, click the Small, Medium, or Large button under the picture of the game. This opens the game in a pop-up window.
If you enjoy this game, you might also like the Free Bejeweled Game page.
Candy Crush - Instructions
Note: The instructions below are for the old Adobe Flash game.
This is a free speedplay version. You have a 4-minute time limit to complete as many levels and get the highest score you can!
Games like Candy Crush train concentration and other thinking skills such as information processing, reaction time, and spatial orientation.
HOW TO PLAY. The object of this speedplay version of Candy Crush is to earn as many points as possible in 4 minutes.
You may have played the regular version of this game on your smart phone or tablet. The speedplay version follows the same rules, but instead of being limited by number of moves, here you are limited by the timer only.
For those who haven't played before, I'll review the rules here.
Earn points by eliminating pieces of candy from the screen.

To remove candy, move the candy around to make three-in-a-row, four-in-a-row, or five-in-a-row.

Move a piece of candy by first clicking the candy, then clicking the location you want to move it to.

You can only move a candy one space, and only if the move will create a three-in-a-row or higher.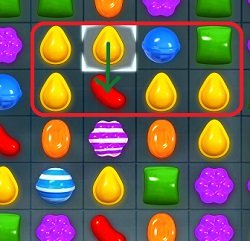 How to Make 4-in-a-Row
Three-in-a-rows will get you points, but for really high scores you need to aim to make special candies.
The special candies appear when you make four-in-a-row or higher. For big point bonuses, create a three-in-a-row from one piece of special candy plus two regular candies.
To clear a level, get enough points to fill the stripes on the candy cane along the left side of the screen.
Your total score is tallied automatically when the timer runs out. Your score will display on the final screen.
Each time you play, try to surpass your previous high score. This will force you to concentrate more intently as you search for patterns among the candy.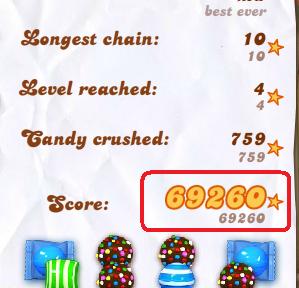 My High Score: 69,260 (Level 4)
My high score is 69,260 as shown in the screen image at right. See if you can beat it.

Notice at the bottom of the same screen image some of the special candies you can get by combining four-in-a-rows. For example, the green-striped special candy is created by lining up four green candies in a row.
The multi-colored chocolate ball is the result of a five-in-a-row of any color. When you then combine the chocolate ball with any other color, all the candies of that color are removed from the screen at the same time in spectacular fashion.
As you improve with this game, you might try thinking ahead. In other words, take a moment to consider whether you can set up four-in-a-rows one or two steps ahead of time.
But you really do need to be quick; the timer makes sure of that. In the regular Candy Crush game, you can leisurely contemplate future moves on most levels without worrying about the time (since number of moves is the limiting factor). Not so here!
This speedplay version requires utmost concentration and quick reaction time if you want a high score. That makes it a brain game for sure.
Published: 06/10/2013
Last Updated: 06/11/2020