Free Mahjong Tile Games - Play Online Now
The Mahjong tile games below are fun, plus they train brain skills such as concentration and visual perception. Clear matching tiles from the board before time runs out.
Choose the Mahjong tile game you like best, and get started!
A brief description of each Mahjong game appears below, as well as the rules of how to play.
Mahjong is known by many other names, including Mahjongg, Majong, Mah-jong, Mahjong Solitaire, Chinese tile games, and Shanghai Games. No matter what you call it, this ancient Chinese puzzle game is a great workout for your brain.
Mahjong Tile Games, Mahjongg Games, Shanghai Games, Chinese Tile Games:
Game #1: Butterfly Connect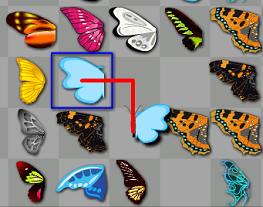 About This Game. Butterfly Connect follows different rules than the other mahjong tile games. The goal is still to remove pairs of matching items, but instead of a stack, you are presented with a flat board.
Remove pairs by finding connecting paths between matching butterflies. To form a match, there must be an open path between the two butterflies. There also cannot be more than two right-angle turns in the path.
This is one of the most colorful mahjong games you'll ever see. Play free now.
Game #2: Chinese Mahjong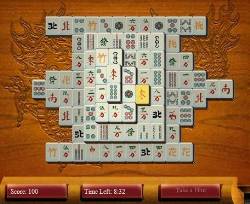 About This Game. This is a traditional mahjong tile game. As you would expect, the tiles show geometric shapes and Chinese characters. What makes it challenging is the 10 minute timer! At least the game includes a Hint feature.
You really need to focus if your goal is to clear the board in the allotted time. Play free now.
Game #3: Christmas Mahjong 1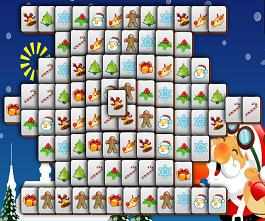 About This Game. Here's a mahjong game to get you in the mood for the holidays. Christmas Mahjong replaces the usual Chinese character tiles with cheery Christmas figures. You'll see Santa, Rudolph, gingerbread men, candy canes and other Christmas symbols on the tiles of this playful mahjong game.
Don't forget to turn up your speakers for a little holiday music. Play free now.
Game #4: Christmas Mahjong 2
About This Game. This is yet another twist on Christmas-themed mahjong. You'll see a host of Christmas images in this game including gingerbread men, candy canes, santa hats, Christmas trees, snowmen, Nutcrackers, and more. This game follows the standard rules of mahjong and has one layout you can play.
This one doesn't play a Christmas soundtrack, but instead you're treated to the sound of sleigh bells each time you match a pair of tiles. Play free now.
Game #5: Looney Tunes Mahjong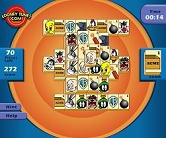 About This Game. This Mahjong tile game is a cute Looney Tunes version of the classic Chinese logic game. The object is to remove as many tiles as possible from the board as fast as you can.
Bugs Bunny, Porky Pig, Road Runner, bombs, anvils, and all kinds of other cartoon images are on these tiles. Enjoy! Play free now.
Game #6: Mahjong Burger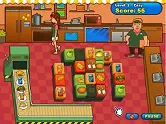 About This Game. Of all the mahjong tile games I've seen, this is the only mahjong game set in a burger restaurant. You must clear the pairs of food tiles quickly. If you don't, food falls off the conveyor belt and you lose!
This is a clever version of mahjong that I think you'll really enjoy. Play free now.
Game #7: Mahjong Connect III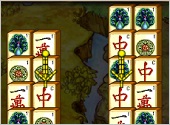 About This Game. This mahjong game has more of an adventure aspect than typical mahjong tile games. There's a purpose to clearing each screen beyond merely earning points.
Between levels, you can activate and then upgrade the Power Totems of the four ancient gods. Each totem possesses a unique power. Play free now.
Game #8: Mahjongg Alchemy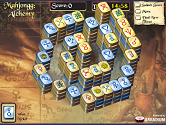 About This Game. This Mahjongg game is beautifully designed. The tiles are laid out in a pleasing three-dimensional, angled format.
You can actually learn the names of the tiles too. The icon in the lower left gives the name of the tile your mouse is hovering over (Dragon, Spirit, Brass, Iron, etc.). Play free now.
Game #9: Mahjong Multi-Level Game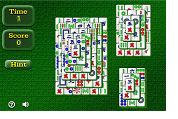 About This Game. This version is similar to the basic Mahjongg game above, except this one has multiple levels.
It also has the Hint button similar to the other game above. Again, don't use the Hints too often, because each time you do you incur a time penalty. Play free now.
Game #10: Mahjong Tower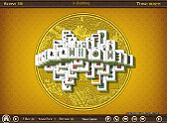 About This Game. This version of Mahjong has eight different layouts you can solve. Layouts include Perfect Tower, Mini Tower, Integrated Circuit, X-Building, Crown, Cross, Butterfly, and Gate tower shapes.
In Mahjong Tower, you get up to five hints per game, and you can shuffle the remaining tiles up to three times. Play free now.
Game #11: Majhong Solitaire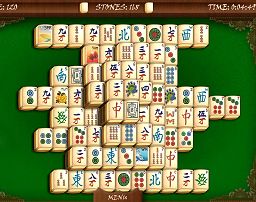 About This Game. This majhong solitaire game is your standard mahjong solitaire. Click equal free stones to make them disappear from the board. As usual, you win when all the stones are gone.
Choose from five different tile stacks, including Classic, Pyramid, Columns, Aztec, and Cubic. Play free now.
Game #12: Marine Mahjong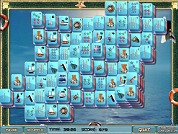 About This Game. This colorful and soothing free mahjong solitaire game trains concentration and visual perception. In Marine Mahjong, remove all matching ocean-themed tiles to clear the board.
This version of mahjong has a relaxing view of the ocean as the introduction screen and peaceful music to go along with it. Play free now.
Game #13: Mayan Mahjong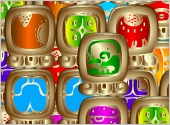 About This Game. This mahjong game has a colorful Mayan theme. As you may know, the Mayan culture flourished in Mesoamerica, rising to prominence around 250 AD.
The tiles in this game show symbols that I assume are meant to represent Mayan writing. I don't know if they're accurate, although they might be. Play free now.
Game #14: Nao's Shanghai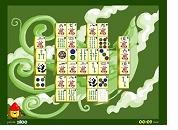 About This Game. Nao's Shanghai is a beautiful mahjong tile game that you can play for free right now. In Nao's Shanghai, choose between a fun, around-the-world "Story Game" or an instant, customizable "Quick Game".
The Story Game setting sends you to cities such as Madrid and New York to play mahjong. The Quick Game version lets you pick the design on the tile faces as well as a cool background. Play free now.
Game #15: Mahjong Chain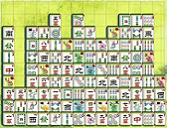 About This Game. Mahjong Chain is one of my favorite mahjong tile games because it's a bit different from all the others. Instead of stacked tiles, the tiles in this game are laid out flat on a grid.
Remove paired tiles from the edges (you can also remove paired internal tiles). Try to remove all the tiles before the timer runs out. An excellent brain exercise! Play free now.
Game #16: Mahjong Toy Chest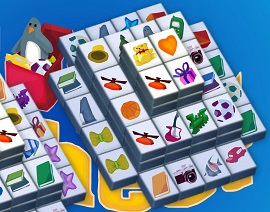 About This Game. Tired of looking at the Chinese character tiles? Then try Mahjong Toy Chest, a more light-hearted version of the classic mahjong puzzle game.
Mahjong Toy Chest follows the usual rules of mahjong. But instead of the typical mahjong symbols, the tiles in this game show various children's playthings.
From teddy bears to building blocks to dolls, the images on these mahjong tiles are cute and loveable. Play free now.
Game #17: Mahjong Slide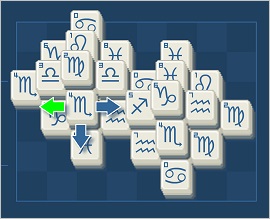 About This Game. Mahjong Slide is a fun variation of the usual mahjong tile game. Beyond finding matching pairs, you also need to find (or create) an open pathway so the pair can slide together.
As in regular mahjong, the object is to clear the board of all tiles. To do this, you need to pair up tiles that have a matching symbol.
To move a tile, place your cursor over the tile and hold down the left mouse button. Arrows appear on the sides of the tile, indicating available paths the tile can move. Click the arrow to slide the tile in that direction.
Sometimes a path already exists. Other times, you need to move tiles out of the way to open up a pathway. Play free now.
Game #19: One-Level Mahjong Game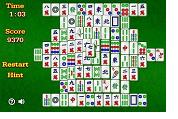 About This Game. This is a straight-forward Mahjongg game set to a timer. One nice feature of this version is the "Hint" button.
If you get stuck, click the "Hint" button. Two available matching tiles will flash briefly. There is a time penalty for using the Hint button, so don't use it too often. Play free now.
Rules of Mahjong
The cool Mahjong tile games above offer many variations in how the tiles are stacked, the images on the tiles themselves, and other features such as hints, shuffling, and so on.
But the rules for Mahjong are basically the same regardless of which online Mahjong game you play or even if you play with real tiles.
The game of Mahjong consists of a collection of same-size tiles stacked in any configuration you can imagine. The total number of tiles can vary.
Every tile has a twin that has exactly the same symbol on its face, although some versions of the game include a few special tiles that can be matched with more than one symbol.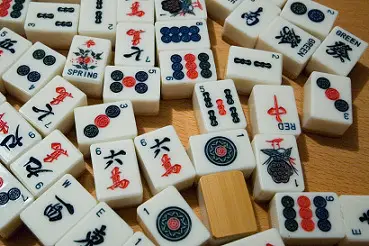 image credit: Flickr / Jonathan_W
The collection of tiles is stacked into a tower configuration that can be any shape (pyramid, butterfly, etc.). The individual tiles are placed randomly in the tower.
Due to the tower shape, some tiles lie on the edges or top of the tower, while most are covered either partially or completely by the other tiles.
The object of Mahjong is to remove paired tiles until all the tiles have been removed from the board and the tower is gone. However, a pair of tiles can only be removed if both tiles are "free", meaning uncovered and not boxed in by other tiles.
Origin of Mahjong Tile Games



image credit: Flickr / AntTree

 
Mahjong is said to date back over 2,500 years to the time of the Chinese philospher Confucius. This tile game was supposedly created during the reign of the King of Wu.

According to legend, Mahjong was invented by a princess or other upper-class woman who was living in seclusion for unknown reasons. To relieve boredom, she conceived the Mahjong tile game and carved the first pieces herself from bamboo and ivory.

For hundreds of years afterward, only the ruling class were allowed to play Mahjong tile games. Common people caught playing were executed.

Today, of course, Mahjong is enjoyed and appreciated worldwide by millions. Known as the "game of a hundred intelligences," Mahjong is played not only for fun but also to train concentration and other brain skills.
Published: 04/29/2010
Last Updated: 06/11/2020