Free Online Typing Speed Test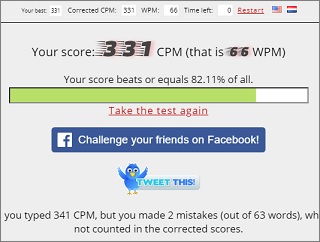 Play HTML5
:  Small |
Medium
| Large
Ready to find out how fast you can type? This free online typing speed test calculates your characters-per-minute (CPM) and words-per-minute (WPM).
To begin, click the Medium link under the picture at left. This opens the test in a pop-up window.
I found this test quite interesting, because I didn't know my own typing speed. After taking this test a few times, I now know that I can type 331 characters-per-minute, which is about 66 words per minute.
Online Typing Speed Test Instructions
If you like this free online typing speed test, you might also enjoy the Fun Typing Games section of this site.
HOW TO TAKE THE TEST.  This typing test measures how fast you can type. Because everyone can type even faster if they make typing errors, this test subtracts points for each mistake you make.
Therefore, it is important to not only type quickly, but to also type accurately. The test takes 60 seconds.
The test does not begin until you start typing. When the test window appears, you must first click in the rectangle under the word list.
This activates your cursor in that box. When you are ready, start typing the first highlighted word in the word list.
Type each word in the word list as quickly as you can without making mistakes. At the end of each word, press the Spacebar to go to the next word. After 60 seconds, the test stops automatically and computes your score.
This typing test measures three things:
Raw CPM. This stands for Raw Characters-Per-Minute, which represents the number of characters you typed in a minute including mistakes (typos).

CPM. This represents your Corrected Characters-Per-Minute, which is the number of characters you type per minute with misspelled words not counted.

WPM. This represents your Words-Per-Minute, which is probably the most useful number to know. It is calculated by dividing CPM by 5. This is the accepted international standard for computing WPM.
Being able to type quickly and accurately is, of course, a helpful skill to have in today's computerized world. I've certainly done my share of typing as I've built this website.
So practicing your typing is not only good for your brain in terms of strengthening concentration, but you also end up with a valuable skill that is very useful in daily life.
This typing test is free, so you can re-take the test as many times as you want. Typing tests are a form of brain game, because they require intense concentration.
Kind regards,
Douglas Jobes
Memory-Improvement-Tips.com
About
Published: 05/19/2011
Last Updated: 06/11/2020
Game distributed by SpeedTest.aoeu.nl. Used with Permission.
If you found the page above interesting, fun, or useful, please click the "Like" and/or "Share" button below. Feel free to leave a comment as well. Thanks very much!