Atari Breakout Online - Play Free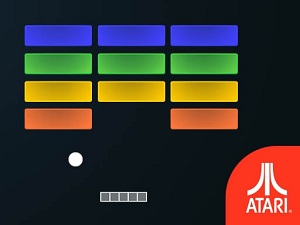 Get ready to play the official Atari Breakout online! This is a modern update of the classic 1976 version of Breakout. This is the official Atari version, free to play here.
This game is part of the free online brain games collection.
To begin, click the Small, Medium, or Large button under the picture of the game. This opens the game in a pop-up window.
If you like this game, you might enjoy other Atari concentration games such as Asteroids and Centipede.
Atari Breakout Online - Instructions
Arcade games like Atari Breakout train important brain skills including focus, visual perception, and reaction time.
Atari Breakout is a classic arcade game with blocks you need to destroy. A ball moves straight around the screen, bouncing off the top and two sides.
Move the paddle using either the Left/Right Arrow keys on the keyboard, or your mouse. I find the Arrow keys are easier, because they are automatically locked in the horizontal left-right direction. Sometimes when using the mouse, I'll drag too far above the paddle and lose control of it.
MODES. Choose between the different modes, "random", "double", "cavity", or "progressive" with each a unique gameplay experience.
To select the mode, click the Left/Right arrow buttons on the Atari Breakout splash screen. This scrolls through the options.
Double gives you control of two paddles at the same time. Cavity has two paddles, but initially only one ball, with other balls inside the walls that can be freed. In the progressive mode, the entire wall advances downward step by step.
The game also includes a scoreboard to track your high scores.
This Atari Breakout online game features the classic arcade experience, with enhanced gameplay for mobile devices and impressive modernized graphics.
Atari Breakout is another of the classic arcade games from the 70's and 80's that had a tremendous impact on video game and computer culture. Atari originally hired Steve Jobs to produce the game. Jobs, in turn, convinced his friend Steve Wozniak to design the circuitry.
Wozniak later said that his experience designed the Breakout game greatly influenced the design of the Apple II computer.
Just as this game required focus and concentration in 1976, it still does today. Play focus games like this one often to give your brain a boost!
Published: 03/18/21
Last Updated: 03/18/21