Bubble Pop Game - Free Online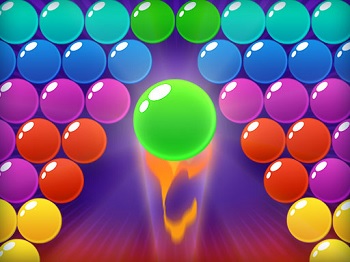 Looking for a fun bubble pop game? You can play three from this page, for free: Bubble Shooter Pro 2, Bubble Hunt, and Bubble Shooter Golden Chests.
These games are part of the free online brain games collection.
To begin, click the Small, Medium, or Large button under the picture of the game. This opens the game in a pop-up window.
Bubble pop games train important brain skills including focus, concentration, and attention span. Play these games often to give your brain a boost!
If you like these bubble games, you might also enjoy the other free concentration games on this site, such as Atari Centipede, Darts Multiplayer, and Whack-a-Mole.
Bubble Pop Game - Instructions
Bubble Shooter Pro 2: Bubble Shooter Pro 2 is the highly anticipated sequel to one of the most successful casual games of all time. More bubbles, more boosters, brand new design and endless hours of fun.
In Bubble Shooter Pro 2, your goal is to remove all the bubbles from the board, scoring as many points as quickly as possible. Match three or more bubbles of the same color with the color of the ball you shoot to remove them.
The more bubbles you manage to blow up in one shot, the more points you gain. Hurry up because more bubbles are coming your way!
Bubble Hunt: Bubble Hunt is a classic bubble shooter game with 48 challenges. Aim and release the bubble in order to combine it with other similar bubbles.
Your goal is to collect the Golden Heart within the allowed time. Don't let the bubbles reach the border. There are several power-ups which can be activated by shooting bubble on them.
Use mouse or touch pad to play the Bubble Hunt game.
Bubble Shooter Golden Chests: Bubble Shooter Golden Chests is a classical bubble shooter game with many new challenges and power ups.
Aim and release the bubble in order to combine it with other similar bubbles and collecting golden chest. Use power-ups to overcome the challenges. Use mouse or touch pad to play this game.
Note: The instructions below are for the old Adobe Flash game.
Bubble Game can be played solo, or you can play simultaneously with a friend. For a real challenge, try playing this bubble pop game in two player mode by yourself.
You'll have to control one character with your left hand while controlling the other character with your right, making that sure neither character is touched by the bubbles.
If you like this game, you may also enjoy the free online Bloons Game.
HOW TO PLAY.  The default controls in Bubble Game are the Arrow Keys for movement and the Spacebar to shoot arrows. If you prefer, click the Controls button to change to mouse controls instead.
You can even program different keyboard keys in the Controls window to customize the game to your style of play.
You definitely want to proceed logically and deliberately in this game. Rushing will only get you hit by a bubble in short order. Whenever you shoot a bubble, it divides into two smaller bubbles. After shooting each bubble, be sure to avoid the two smaller ones that are spawned.
Note: It is not necessary to hit the bubbles with the tip of your arrow. As long as the bubble touches any part of the string attached to the arrow (or if you hit it with the head of the arrow) it will pop.
The bubbles bounce higher than head level. This means if you position your character carefully, bubbles will bounce over him harmlessly. However, if you shoot too many big bubbles without cleaning up the small ones, you'll reach a point where it is impossible to either shoot all the small bubbles heading toward you or avoid them.
For that reason, you might want to clean up small bubbles as you go (i.e., don't pop every big bubble right off the bat). Of course, going too slowly in this bubble pop game isn't a good strategy either, because on each level you are on a timer. Thus you need to balance care and strategy with a conscious awareness of the time remaining.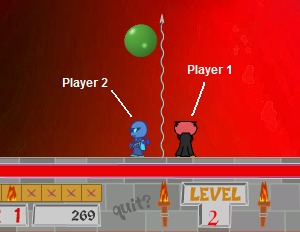 TWO PLAYER MODE. As I mentioned above, two player mode puts two characters on the screen at once. This is fun if you've got a friend there to play with so you can team up against the bubbles. But you can play this mode solo too.
The default controls for two player mode are the Arrow Keys and Spacebar for Player 1, while Player 2 uses the X and C keys for movement on the left side of the keyboard and the W key to shoot arrows.
TREASURE. Fortunately, quite a bit of useful treasure drops on each level of this bubble pop game. The items dropped range from extra arrows to gold coins that raise your score.
You'll get other items as well such as thorned arrows which do a better job of popping bubbles than regular arrows.
These goodies fall out of random bubbles at the same time you pop them. Concentrate carefully as you retrieve them!
My character got hit by bubbles on more than one occasion when I became too distracted by gathering treasure and forgot to watch out for the lethal bubbles bouncing nearby.
You do need to act quickly, though, as the treasure disappears if you leave it sitting for more than a few seconds.
One final tip: I found that I did better at Bubble Game the larger I made the screen size. Rather than playing in small-screen mode, you might want to resize the game window to make it as large as possible.
Published: 11/12/2011
Last Updated: 05/28/2022