Play Hangman Online - Free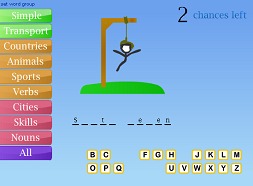 Ready to play Hangman online? Hangman is a fun brain game that strengthens thinking speed and verbal fluency.
This game is part of the free online brain games collection.
To begin, click the Small, Medium, or Large button under the picture of the game. This opens the game in a pop-up window.
If you like this game, you might enjoy the other free word games on this site, such as Scrabble Outspell.
Hangman Instructions
Note: The instructions below are for the old Adobe Flash game.
Keep reading to learn a secret for winning at Hangman!
The object of Hangman is to guess the hidden word before your stick man is "hung". This is the same game that you may have played on paper as a child.
HOW TO PLAY. Once the hangman game loads, click a category along the left to choose the type of words to solve (Simple, Transport, Countries, Animals, etc.).
To guess a letter, click any of the yellow letters at the bottom of the screen. If the letter you guessed forms part of the hidden word, the letter appears in one or more of the blanks in the word.
If the letter is not in the word, a stick is added to the hangman. You only get six guesses per word. If you make too many wrong guesses, you will be hung, of course!
A cool feature of this hangman game is that you get to choose how he dies. Besides hanging, you can select to have a piano, bomb, or piranha fish perform the coup de grace. (Don't worry, it's not that graphic.)
Secret to Winning at Hangman
This version of hangman is hard, but not impossible. I got 10 in a row the first time I tried it.
How did I do it? I let you in on a little secret that every cryptographer and fan of Edgar Alan Poe probably knows:
Certain letters appear more commonly in English words than other letters. So if you know the order of the most common letters, you get a head start in games like Hangman.
Poe created one of the first of these "letter frequency" sequences. He used it to solve a mystery in his awesome short story, The Gold Bug (one of my favorites).
The sequence he came up with was "ETAOINSHRDLU". If you memorize this sequence, you should do great whenever you play Hangman online and similar games such as Wheel of Fortune.
I remember the ETAOINSHRDLU sequence by using the memory technique called "chunking". Chunking just means to break it down into smaller bits.
My chunks are "E" + "TAO" + "IN" + "SHR" + "D" + "LU". It has a certain rhythm to it that makes it easy to remember after you repeat it a few times.
Following this pattern, whenever you play Hangman online (or on paper) you should always guess "E" first. Then guess "T". Then "A". And so on.
Make sure to pay attention to the word as you go along! As soon as there are enough letters for you to figure out what the word is, then let your thinking brain take over. Just use ETAOINSHRDLU to get you started.
Published: 01/23/2010
Last Updated: 06/11/2020