Free Checkers Games Page
These free Checkers games are not only fun, they also train brain skills such as concentration and strategic thinking.
Checkers is a two-person board game also known as draughts, dames, or damas. You play against the computer with these free games.
Each side takes turns moving their chips forward one at a time. The chips can only be moved on the diagonal squares.
There are also rules for when you can jump and take your opponent's pieces (see individual game pages for rules).
To win, either take all your opponent's pieces or block him from making any more moves.
Here are the Checkers Games:
Game #1: Alice in Wonderland Checkers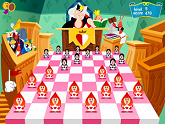 About This Game. This Alice in Wonderland checkers game has wonderful graphics. Play checkers against different characters from down the rabbit hole!
Tweedle Dum & Tweedle Dee, the Mad Hatter, the Queen of Spades, and more are your opponents. Your checkers pieces match the theme of each level too. Play free now.
Game #2: Big Shot Checkers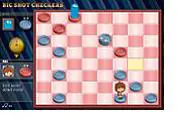 About This Game. Big Shot on-line checkers is a fun variation of regular checkers. In this version, your Big Shot character rides on top of one of your pieces!
This adds a new way to win: Get your Big Shot to your opponent's home row. Play free now.
Game #3: Checkers 1v1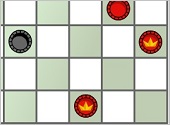 About This Game. Here's a Checkers game online you can play for free. Play against the computer, or another person in the room!
The graphics in this game are clean and simple, and it's got nice features you'll enjoy. Play free now.
Game #4: Checkers 3-in-1
About This Game. Checkers 3-in-1 is your basic checkers game. Nothing too fancy here!
But there are some really cool options:
Standard (regular checkers), Giveaway (computer must take all your pieces), and Extreme (speed checkers).
Play free now.
Game #5: Checkers Online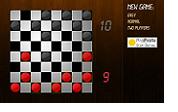 About This Game. This version is nice because you can play against a real friend! Just choose the Two Player option when starting the game.
Other than that, this is a straightforward checkers game with a standard-looking checkers board. Play free now.
Game #7: Online Checkers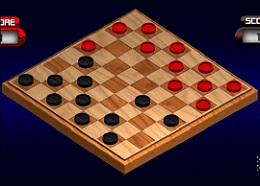 About This Game. This nice version of online checkers comes with useful options for customizing the game. For starters, you can choose whether to play Red or Black. You can also play versus the computer or against a friend in the same room. You can display the checkers board either in a flat overhead view or as a 3D board.
This game loads fast and is lots of fun. Play free now.
Published: 10/15/2010
Last Updated: 06/11/2020