Free Arkanoid Online Game - Play Now
If you like block-breaking games, here's a free Arkanoid online game you may enjoy. It is similar to Atari Breakout and can be played in your browser.
To begin, click the Small, Medium, or Large link, or HTML5 link under the picture at left. This opens the game in a pop-up window.
Note: The HTML5 version Brickout Breakout is an HTML5 game. It does not require the Adobe Flash Player. It is a similar game by a different game developer.
Arkanoid Online Game - Instructions
Use your paddle to bounce the ball into the wall of bricks above you to earn points. Break all the bricks to move to the next level.
To begin, click the Small, Medium, or Large link or PLAY GAME button under the picture at left. This opens the Arkanoid game in a pop-up window.
If you like this game, you may enjoy similar free games like Bloons and Bubble Trouble.
HOW TO PLAY. Arkanoid is a breakout-type game. You goal is to knock out all the bricks from each level.
Use the mouse or Right and Left arrow keys to move your paddle. To fire lasers, press the Spacebar.
Whatever you do, don't let the ball get past your paddle. Otherwise you lose a life.
Bricks appear in various patterns depending on the level. There are surprises along the way, too. For example, Level 5 is a giant Rapa Nui Easter Island statue that breathes lasers!
The bricks appear in various colors. Occasionally you'll see bricks that can't be broken or that require multiple hits to break.
POWER UPS. Be sure to collect Arkanoid power-ups like Laser, Catch, and Slow to help you survive. Powerups drop randomly as you break bricks.
This Arkanoid online game was apparently created by a Japanese developer, because the screen that displays between levels is in Japanese (I think). Ignore all that; just click the PLAY button or TITLE button on that screen when it appears to continue the game.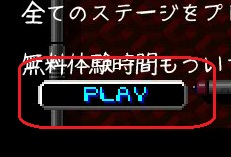 Click "PLAY" or "TITLE" between levels
This version of online Arkanoid is fun but tough. It's hard mainly because you only have 1 life at first.
If this Arkanoid game seems too difficult, consider playing on Easy mode. Click the Option button on the Main Menu screen to display the Options window where you can choose Easy, Normal, or Hard mode.
To survive longer, keep an eye out for the "P" (Player) power-up. Always catch this one if you can, because it gives you an extra life.
The other Arkanoid power-up that's really useful is the "L" (Laser). Once you get the laser, press the SPACEBAR on your keyboard to shoot lots of bricks.
But don't for get to keep bouncing the ball on the paddle! Also, avoid catching the other power ups (except maybe the Player power up) while you have the Laser. Catching another power up cancels the laser.
If you need to take a break, click the PAUSE button on the game screen.
Like all breakout games, this Arkanoid online game requires concentration and keen visual perception. If you have trouble at first, keep practicing.
So far I've only been able to reach Level 5. See if you can do better.
Published: 03/27/2016
Last Updated: 06/11/2020