Mahjong Tile Game - Mahjong Deluxe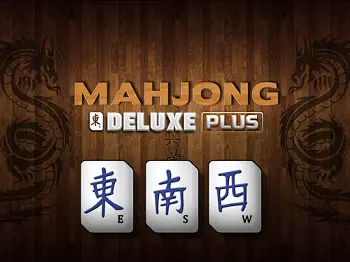 This Mahjong tile game is a fun way to exercise your brain. A myth asserts mahjong was developed by the great Chinese philosopher Confucius in 500 B.C.
This game is part of the free online brain games collection.
To begin, click the Small, Medium, or Large button under the picture of the game. This opens the game in a pop-up window.
If you like this game, you may also enjoy Mahjongg Alchemy.
Mahjongg Instructions
This Mahjong Deluxe game includes 18 cool levels of mahjong puzzles to solve.
Note: The instructions below are for the old Adobe Flash game.
After clicking the START button, click the "Classic" or "Simple" tile set to begin. Remove tiles by matching them in pairs. You can only match tiles that are not blocked by other tiles from the left, right, or top.
For a brief description of each Mahjong game on this site, see my Mahjong Tile Games page.
HOW TO PLAY.  To match two tiles, click one of the tiles in the pair. This tile turns red. Then click the second matching tile.
Both tiles will disappear. Continue in this manner until all tiles in the puzzle are gone.
For every second that passes, your score drops by 10 points. So the faster you can complete the puzzle, the higher your score at the end.
If you get stuck, click the "Hint" button. Two matching tiles will briefly flash on the puzzle as your clue.
However, each time you use the Hint feature your score drops by 100 points, so don't use it too often.
HISTORY. The Mahjong tile game is a four-player game invented in China. The name means "sparrow".
The three dragon tiles (cardinal tiles) in the game match the three cardinal virtues preached by Confucius - benevolence, sincerity, and piety. However, as there is no evidence of the game before 1800 it is unlikely that Confucius was the actual inventor.
Games like mahjong tiles train important brain skills including strategic thinking and visual perception. Play this game often to give your brain a boost!
Published: 02/21/2010
Last Updated: 06/11/2020