Majong Solitaire - Free Online Brain Game
Here's a challenging majong solitaire game for you to solve. Chinese Mahjong tile games train concentration and visual perception.
To begin, click the Small, Medium, or Large link, Very Large button, or HTML5 link under the picture at left. This opens the game in a pop-up window.
Note: The HTML5 version EZ Mahjong is an HTML5 game. It does not require the Adobe Flash Player. It is a similar game by a different game developer.
Majong Solitaire - Instructions
Game play is simple: Remove pairs of matching tiles before the timer runs out. Click the tiles to select them.
The tiles in this game have geometric shapes and Chinese characters on them. Enjoy!
For even more mahjong games, see my Mahjong Tile Games page.
HOW TO PLAY. You might find the game easier to solve if you display it in Large or full-screen mode. This makes it easier to see the markings on the tiles.
After the mahjong game window appears, click the CONTINUE button, then wait until the "Mahjongg" screen appears. This screen has a large dragon on it. Click the PLAY GAME button in the lower right.
In this majong solitaire game, the tile stack is in the shape of an irregular pyramid. (Multi-Level Mahjong is another pyramid majong game you might like.)
Regardless of how the tiles are stacked, most mahjong games follow similar rules:
The goal of mahjong is to remove all the tiles from the board before the timer runs out (in this case, 10 minutes).
The addition of a timer to mahjong is ingenious. Having a limited time to solve a game, or indeed to complete any project, can force your brain into a state of hyperfocus.
Tiles are removed as matching pairs. The reason Mahjong is challenging is because many tiles are in a locked position.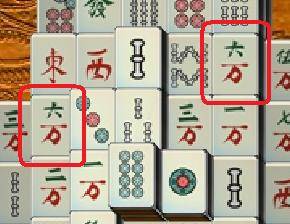 Matching solitaire tiles
For a mahjong tile to be removable, either the right or left side of the tile must be unblocked by another tile. The tile also cannot be covered by a tile above it.
At left is a screen image that shows two matching tiles. These tile can be removed, because one of their sides is unblocked by other tiles:
To remove a pair of tiles, click the first tile then click the second tile. The two tiles will disappear from the board.
Because the mahjong tiles are stacked, you cannot see all the tiles on the board. Basically, you just need to quickly identify matching, available tiles and remove them from the board as fast as you can.
HINTS. Fortunately, this majong solitaire game includes a Hint feature. If you get stuck, click the Take a Hint button at the bottom of the screen. This causes a tile that is available to match to glow.
SCORING. Each time you remove a pair of tiles, you earn 20 points. Your score displays in the Score box in the lower left of the game window.
As in chess, it helps in mahjong to think ahead at least one or two steps if you can.
Try to identify locked tiles that you want to unlock. Then, look for pairs to remove that will open up those tiles.
If you're looking for a new twist on the traditional mahjong game, check out Mahjong Burger. As the name implies, this mahjong game is set in a burger restaurant! It's pretty fun.
From what I've seen, the game of mahjong seems to be growing in popularity. This type of board game is effective way to improve your concentration and visual perception brain skills. It's an all-around excellent brain game.
Published: 12/01/2012
Last Updated: 06/11/2020
Game distributed by yy2k.com. Used with Permission.
If you found the page above interesting, fun, or useful, please click the "Like" and/or "Share" button below. Feel free to leave a comment as well. Thanks very much!