Penguin Diner - Free Time Management Game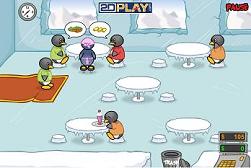 At the Penguin Diner, you are Penny the Penguin, waitress extraordinaire. Fill your customers' orders quickly and accurately for high scores. Earn extra money to buy power-ups at the Upgrade Shop!
This game is part of the free online brain games collection.
To begin, click the Small, Medium, or Large button under the picture of the game. This opens the soccer game in a pop-up window.
If you like this game, you might also enjoy Penguin Diner 2.
Penguin Diner - Instructions
Wait for the game to load, then click the "PLAY" button on the right side of the game. If you've played before, continue your previous game.
HOW TO PLAY. (1) Seat Your Customer. Customers arrive and want to be seated.
Click on a waiting penguin to select them, and then click on an available table to seat them.
(2) Take Their Order. A customer will say "Hello" once he/she is ready to order. Click on the customer or table to take their order.
(3) Serve Customers. When the order is ready, food appears in the food area.
Penny can carry two dishes at a time. Select the dish, then click on the customer or table to serve them.
(4) Collect Penny's Money. Once the customer is done, click the table to pick up cash and clear the table. Now this table is ready for the next customer.
(5) Time: Keep an eye on the clock. You only have until 9:00 PM to make as much money as you can!
(6) Upgrade Shop. Visit this at the end of the day. Use Penny's profits to buy useful upgrades and help her earn even more money.
Trash Can: If an angry customer runs off, you can trash their unwanted dishes.
Extra Tip: Server customers quickly. Keeping them happy earns Penny bigger tips and helps her reach daily targets.
As the days pass, business at the diner picks up. The pace becomes nearly frenetic. Then a strange thing happens.
You get into "the zone". If you focus intently on this game, you'll notice your brain working faster and faster to follow the action.
Your brain actually gets into a grove where you'll check the front door of Penny's diner to see whether new customers have arrived. Nearly at the same moment, you'll scan the tables to see if one is available.
In between, your mind will know to quickly check for dirty dishes that need to be cleared. You'll watch closely for customers who are ready to pay.
On Day 1 of the game, you may not understand why Penguin Diner is a brain game. There are few customers that day, and the pace is leisurely.
But as you complete day after day, and five or ten minutes of playing has passed, you'll notice your brain has become highly focused!
Time management games like Penguin Diner train important brain skills such as task switching and reaction time.
Published: 04/29/2010
Last Updated: 06/11/2020