Mergest Kingdom Free Online Game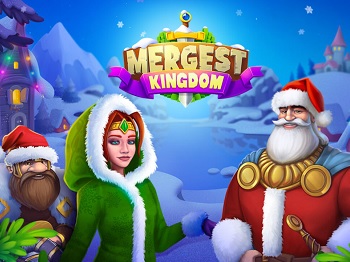 In Mergest Kingdom free online, merge hundreds of objects together in a land full of challenging quests.
This game is part of the free online brain games collection.
To begin, click the Small, Medium, or Large button under the picture of the game. This opens the game in a pop-up window.
Like this free game? You might enjoy other merge games on this site, such as the 2048 game.
Mergest Kingdom Free Online - Instructions
Instructions from the publisher:
How to Play. Merge and combine pieces to save the Kingdom!
Do you believe in fairytales? How else would you explain the story that is about to unfold?
Merge together hundreds of objects in a land full of challenging quests. Collect and harvest resources. Design your own island. Make it look the way YOU want it!
Find the best ways to match and merge various pieces to erect the biggest buildings and cultivate the most fruitful plants!
Help rebuild the Mergest Kingdom and make it the most magical one in the Seventh Realm!
What is The Mergest Kindom like? YOUR WORLD!
Only here in this Mergest Kingdom free online game can you find the most amazing objects that you will ever merge. YOUR CHOICE. You can merge dragons, trees, gems, and virtually anything you find on your journey of discovery.
YOUR RULES. The island's full of merge magic and merge craft enabling you to make the biggest merges the way YOU want.
Quests and challenges. Take part in DAILY QUESTS to collect coins and gems.
Mine various RESOURCES to build. Explore vast MAGIC territories full of mysterious creatures, bedazzling characters, and captivating objects populating this infinite world.
If you love merge games this mergical experience is going to be a perfect fit for you.
This Mergest Kingdom free online game trains important brain skills, including visual perception and logical reasoning. Play these games often to give your brain a boost!
Published: 01/19/2023
Last Updated: 01/31/2023