Millionaire TV Show Game - Play Free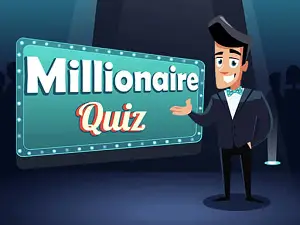 Ever watched the TV game show, "Who Wants to Be a Millionaire?" You're asked questions on different topics, all the way up to the million dollar question!
This game is part of the free online brain games collection.
To begin, click the Small, Medium, or Large button under the picture of the game. This opens the game in a pop-up window.
If you enjoy this game, you might like Trivial King.
Millionaire TV Show Game - Instructions
Note: The instructions below are for the old Adobe Flash game.
Who Wants to Be a Millionaire is one of the most popular TV game shows of all time. Like the show, this game tests memory and concentration.
HOW TO PLAY.   On the game menu screen, you can choose START GAME, INSTRUCTIONS, or ABOUT GAME. Click the START GAME button to start playing.
After the game loads, type your name in the ENTER NAME box, and then click the CONTINUE button. The Who Will Be A Millionaire splash screen then displays.
Press the ENTER key on your keyboard to open the game menu.
Here is how the in-game help window explains the rules of this game:
"INSTRUCTIONS: Try to win $1 million by answering all 15 questions correctly. You have three lifelines to help you along the way, and they are:
Call-A-Buddy. Ask your friend the question. He or she will give you the answer and the percent of how sure they are that it is correct.

50% Chance. This lifeline removes two of the wrong answers.

Audience Assistance. Summons the help of the audience."
The in-game help lines are fairly realistic. When you "call a friend," you see a conversation on screen just as if you phoned someone to ask for their help.
I've not done too well with this game so far (I've made it only to level 8). See if you can do better!
Quiz game shows are an excellent test of memory and general knowledge. You can use them to learn new things not only by remembering the answers to the quiz questions, but actually consult the Internet or an encyclopedia whenever you learn a new fact from the quiz.
For example, if you learn from this game that a certain movie won an actor's award, go to Wikipedia and look up that movie.
Published: 08/15/2011
Last Updated: 06/11/2020