Play Tetris Now - Reckless Tetriz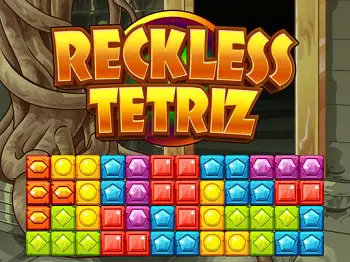 Want to play Tetris now? Reckless Tetriz is a simple block tetris game. Complete lines by fitting differently shaped stacks in the available space.
This game is part of the free online brain games collection.
To begin, click the Small, Medium, or Large button under the picture of the game. This opens the game in a pop-up window.
If you like this game, you might enjoy other puzzle games like Super Stacker and Microsoft Jigsaw.
Play Tetris Now - Instructions
As with classic Tetris, the goal is to create complete rows to prevent the screen from filling up with objects.
If you like this game, you might also enjoy the other free Tetris games online on this site.
Tetris Rules. Here are the basics of how to play Tetris:
The game is played on a board where different shapes called tetrominoes fall from the top. The player must rotate and move the tetrominoes to create horizontal lines without gaps.
When a line is completed, it disappears and the player scores points. The game ends when the tetrominoes reach the top of the board.
Old Instructions. The instructions below are for the old Adobe Flash version of the game.
HOW TO PLAY. Fruit shapes drop one at a time from the top of the screen. The "Next" box in the upper right corner shows the next shape that is coming so you can plan ahead.
Press the Up Arrow key to rotate the fruit shapes as they fall. The Left Arrow and Right Arrow keys are used to move the shapes side to side.
Press the Down Arrow key to drop the shape to the bottom quickly. If you need to pause the game, press the "P" key.
Objects are made of strawberries, blueberries, oranges, plums, and green apples. The objects fall faster as you progress through the levels.
Other boxes on the right side of the game show how many lines you've completed, which level you are on, and your current score.
There are 10 fun levels to this game. Enjoy!
Published: 04/30/2010
Last Updated: 07/30/2023