Free Math Games - Play Online
Below are links to the free online Math Games on this site. Play them online anytime with no restrictions. For more types of games, see the Free Brain Games main page.
Math games include favorites like sudoku, KenKen, and more. Problem-solving math games train brain skills like logical reasoning, quantitative reasoning, and arithmetic.
For a list of multiplication-related games (a subset of the above), see the Math Multiplication Games page.
Printable Math Puzzles & Study Aids
I've also got some free printable math puzzles that you can solve on paper. And I've made some math facts study aids you can print out for free: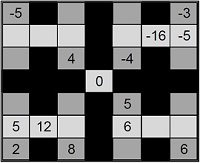 Checkerboards
Math students who would like to test their memory of the 12 x 12 multiplication table may enjoy my 12 x 12 Time Multiplication Exam. The exam takes 3 minutes, and you'll see your score at the end.
More Free Online Games
Looking for more free brain games? Go to the Full List of Games or choose a different games category from the list at right.
Categories include Board Games, Card & Tile, Concentration, Math, Memory, Puzzle, and Word Games. There is also a list of the Most Popular games.
You can also find games using the Games menu bar above or the game search box at right. In addition, there is a link to the Full List of Games at the bottom of every brain game page.
All the online games are free to play as much as you want. No logging in, no registering. Just go to the game page and start playing!
To learn how to use brain games to improve your memory and brain power, visit the main Brain Games Training page.
Published: 10/04/2013
Last Updated: 06/11/2020