What Is Going On with Flash Games?
When trying to open a brain game, do you see an error message that the "Adobe Flash Player" is blocked? Or is the game pop-up window blank?
In either case, the free Adobe Flash Player plug-in might not be activated in your browser.
Some online games were built with software called Adobe Flash. To play them, you must allow the free Adobe Flash Player to run in your browser.
To fix this, go to the Settings page in your browser, and change Flash: Block to "Flash: Allow" or "Ask First". In the Google Chrome browser, click the Lock icon in the address bar, and then change "Flash: Block" to "Flash: Allow".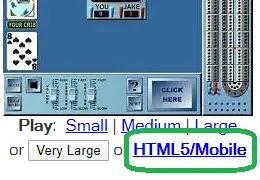 If this doesn't work, it is possible your browser doesn't have the Flash Player. To check and fix this, follow the steps on Adobe's Flash Player Help page.
How to avoid the hassle: Play the HTML5 brain games instead. HTML5 games don't need the Adobe Flash Player. To open them, click the "HTML5/Mobile" link on the game page.
Flash Games on the Web Are on Their Way Out; HTML5 Games Are On Their Way In
You may have noticed it is getting trickier to open the Flash-based brain games. This is by design of Adobe and the browser companies. They plan to disable Flash games on the web completely by the end of December 2020. Here is Adobe's Flash End-of-Life General Information page.
See below for more info on how the free online brain games are affected by this change. Short answer: There are free "HTML5-based" brain games you can play instead.

In Chrome: Site Settings: Allow Flash
Fortunately you have another option: the new HTML5-based games. The HTML5 brain games don't use Adobe Flash. The HTML5 games should work fine without any browser plug-ins or having to fiddle with any settings, and you should be able to play them long into the future.
FLASH UPDATE (12/04/19): As of today the free Flash-based games such as Scrabble Sprint are still working. In Google Chrome, to open the games you must now re-allow the Adobe Flash Player for my website every time you re-open Chrome.
GOOGLE CHROME USERS: If you were previously able to play the Flash games in Google Chrome but now cannot open them, a recent Chrome update may be the cause. Your Adoble Flash Player may be disabled in Google Chrome. To re-enable the Flash Player, click the Lock icon in the address bar above and choose Site Settings. On that screen, change Flash: "Block" to Flash: "Allow". Next, refresh your browser. The Flash-based games should now open.
MICROSOFT EDGE USERS: (12/02/19) To open the Flash games in Microsoft Edge, you may need to click the PLAY GAME button under the picture of the game. (On some game pages, this button is labeled VERY LARGE, instead.) The Small, Medium, and Large links under the game picture might not work. After clicking the PLAY GAME button, a pop-up window appears showing a puzzle piece. To enable Adobe Flash, click the puzzle piece, then click the Allow Once button on the next pop-up that appears. Next, refresh your browser. The Flash-based games should now open.
OTHER BROWSERS: In some browsers, the easiest way to allow Flash for my site is to click the red rectangle under the "Free Online Brain Games" heading in the sidebar at right. This should open a pop-up message asking whether you want to Allow Adobe Flash. See below for alternative methods for allowing Flash.
The Slow Death of Adobe Flash
Through this year and next (2019-2020), the major browser companies including Google, Apple, Mozilla, and Microsoft will restrict Adobe Flash more and more. They are coordinating together with Adobe to remove Flash from the internet entirely. After December 31, 2020 the Flash games will stop working completely.
This is not what I personally would want to see happen. Unfortunately it is out of my control. The browser companies have their reasons.
I will do my best to keep the Flash games going as long as I can. And all is not lost. The HTML5-based brain games are not affected by the slow death of Flash.
HTML5 is a different, newer technology. It is enabled in your browser automatically without the need for a plug-in.
Unfortunately, not all Flash games will ultimately be converted to HTML5 format. This is also something not under my control. It is up to each game's developers and those who hold the game's license. I am trying to find HTML5 equivalents for many of the Flash games, but some of your favorites will likely be lost forever, which is the sad reality.
The good news is that HTML5 online games should work long into the future. There will be free online brain games for you to play on this site for many years to come. Or at least as long as I am able to keep the website going, that is!

Alternative Methods to Enable Flash
LATEST: FIREFOX QUANTUM (03/24/19): The following screen image shows how to activate Adobe Flash for my site in Firefox Quantum. For instructions for Google Chrome, please scroll down.
The image above shows Firefox Quantum v.66.0.1 (64-bit), the most recent version of the browser as of today.
---
LATEST: GOOGLE CHROME (9/20/18): As of version 69 of Google Chrome, to play the Flash games you must re-allow the Adobe Flash player every time you close and re-open the browser. The "always allow" feature is gone.
The following screen image shows how to quickly re-allow Adobe Flash for my site in Google Chrome.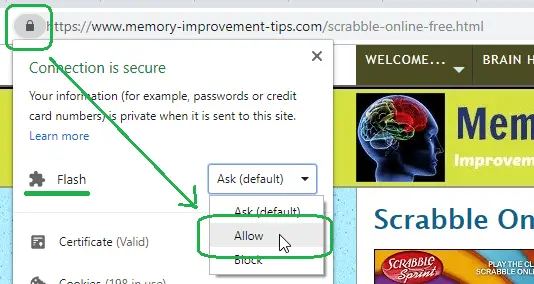 After you "Allow" Flash, a "Reload" button should appear. Click that button. This reloads the page and makes the Flash player active. The Flash-based games on my site should then open for you.
---
Don't see the Flash → Allow setting in the lock pull-down menu in Chrome (as shown above)? You may still be able to access the Flash settings toggle through the Site Settings gear as shown in the following image: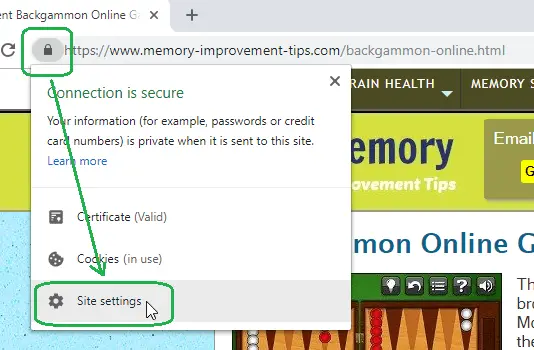 Click the Site Settings gear to open the Chrome Settings screen. In the Flash row, change the setting from Block to "Allow", as follows: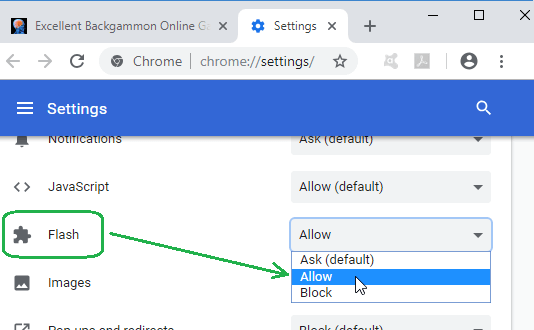 At this point a "Reload" button should appear near the top of your browser. Click that button to refresh the page and activate the Adobe Flash player. You should now be able to open the Flash-based games on my site.
Thanks for your patience during this transition from Flash games to HTML5 games. I know it's frustrating. It is for me, too!
There will always be free puzzle, card, concentration, memory, and other types of online brain games to play on this website, as long as I can possibly continue to make it so. I am committed to it.
Kind regards,
Douglas Jobes
Memory-Improvement-Tips.com
About
Published: 05/16/2019
Last Updated: 03/21/2020
If you found the page above interesting, fun, or useful, please click the "Like" and/or "Share" button below. Feel free to leave a comment as well. Thanks very much!