Tetris Returns - Free Tetris Puzzle Game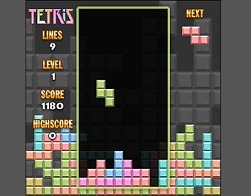 This Tetris puzzle game helps trains reaction time and visual perception. Build your brain power and have fun doing it!
To begin, click the Small, Medium, or Large link, or HTML5/Mobile link under the picture at left. This opens the game in a pop-up window.
Note: The HTML5/Mobile version is an HTML5 game. It does not require the Adobe Flash Player. It is a similar game by a different game developer.
Tetris Puzzle Game Instructions
If you like this game, you might also enjoy my other free Tetris games online.
Stack the blocks as they fall to complete rows without any gaps. Once a row is completed, the blocks in that row disappear and the entire stack drops down.
HOW TO PLAY. This version is called Tetris Returns. As with most versions of Tetris, the rules are simple.
Once a piece reaches the bottom, the piece cannot be moved, so think quickly!
The game ends when your stack reaches the top of the game screen. Try to avoid that from happening.
CONTROLS. Press the Left and Right Arrow keys to move the falling piece left or right. Press the Up Arrow key to rotate the piece. Press the Down Arrow key to move the piece down to the bottom faster.
To pause the game, press the Spacebar. To quit, press the Shift key.
HINT. Look in the upper right corner of the game to see the next piece that will fall.
Enjoy this Tetris puzzle game!
Published: 12/08/2009
Last Updated: 06/11/2020