Goodgame Empire: Free-to-Play Online Strategy Game
Goodgame Empire is the most detailed strategy game on this website. Build your castle and defend it against attacks from real players.
This game is part of the free online brain games collection.
Play this game free, right from this page!
Did I mention that it's free? My character has reached Level 50 so far (a pretty high level), and I haven't paid a dime. See below.
To open the game, click the link under the picture of the game. This displays the game in a pop-up window.
The company makes money if you choose to buy rubies. The rubies provide certain advantages in the game, so buy them if you want. But it is not required.
Then log in to start playing. (Or set up your free Goodgame account, if you haven't created one yet. See below for more information.)
Why play this game? Online strategy and conquest games boost important brain skills. Plus it's quite fun and challenging.
According to the Journal of Psychology & Aging1, playing online conquer-the-world games like Goodgame Empire strengthens the brain in several ways. These games provide a boost to working memory, short-term memory, planning, and multitasking skills.
By the way, if you don't like castle and battle games, you might enjoy Goodgame's other online strategy game, Big Farm, instead. That one has a more peaceful and relaxed game style. It is free-to-play also.
Goodgame Empire - Instructions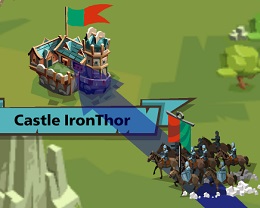 My army returns home after a conquest.
WHAT IS THIS GAME? Goodgame Empire is an online medieval strategy game. As a loyal Knight, you've been granted a run-down castle and plot of land with great potential.
Your goal is to expand, strengthen, and wisely manage your estate.
At the same time, raise an army and fight other nobles for honor and glory. Become wealthy and powerful if you can!
This is an online multiplayer game. The scattered robber barons are computer players, but most castles on the map are owned by actual players around the world.
Your real identity is protected. Names displayed in the game are fictitious (made up).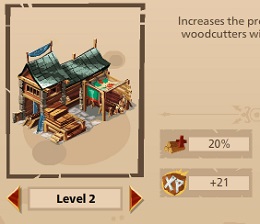 Example building: The Sawmill
Goodgame Empire is a resource management and strategic combat online game. There are tasks and strategies you'll need to master to avoid losing battles to competing nobles and robber barons, and to run your castle's economy successfully.
The many facets of this strategy game make it exciting, challenging, and engaging.
One of the best features is the automatic Quest path that guides you from the start. When in doubt, click the purple "Quests" book to view an auto-updated list of recommended goals.
While optional, completing the quests provides a clear progression toward building a well-protected castle, powerful army, and balanced economy.
That's right. Your castle has an actual economy.
You'll manage the production of lumber and stone, food, dwellings, and weapons. As needed, you'll build siege engines and defensive works for the castle.
And you will recruit soldiers of all kinds. Melee soldiers expert with spear or mace; bowman who can take down enemies with longbow or crossbow.
You need to pay your soldiers with gold and food. As you can see, your castle has production/consumption and attack/defense cycles you need to manage strategically.
HOW TO REGISTER. If you've never played before, you can easily register directly on the game page and start playing immediately.
Enter a character name and a valid email address, and create a password. Then click the Play button, and the game will begin.
Note: Select your character name carefully.
The first name you pick is free. But changing your character or castle name later will cost you some rubies.
After registering, be sure to check your email in-box for a welcome message from Goodgame Studios. Click the link or button in the email to confirm you are the person who registered your email address with them.
WHAT DOES IT COST? This game is free-to-play, with in-game optional purchases.
The developer Goodgame Studios is in business to make money. But they've done a great job designing the game around the in-game purchases so you don't have to buy anything if you don't want to.
If you decide later to make in-game purchases, you'll provide payment information at that time. It's not necessary to enter any payment or identifying details if you don't choose to buy rubies in-game (see below).
PROOF that Goodgame Empire Is Free to Play
To verify that Goodgame Empire is free-to-play as they claim, I created an account to test the game. I named my character Sir IronThor and titled my main estate Castle IronThor.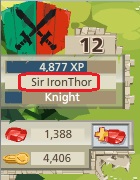 Sir IronThor, Level 12
Based on my experience, the game truly is free to play. So far I've reached Level 12 [now 50, see below] without making any in-game purchases. See image at left.
I earned the 1,388 rubies you see in the image as bonuses for completing tasks in-game such as defeating high-level robber barons. Plus I received a starting gift of 300 rubies as soon as I registered and began building my castle.
By the way, I've chosen a solo play style. I don't happen to have the time or interest to get involved with alliances and their politics.
But if you enjoy the interaction, an alliance playstyle is valid. It's actually a common choice, because alliance members can share resources and rally to aid a member who is attacked.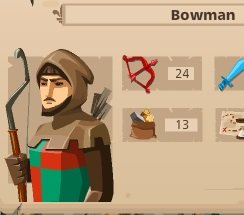 An archer in Castle IronThor's army
The in-game purchase system works via "rubies". You'll often see nag screens pop up offering deals on ruby purchases. You can easily close these (or take advantage of the discount if you do want to buy them).
A big pile of rubies does allow you to obtain powerful upgrades and equipment not available otherwise. In addition, rubies can be used to complete building projects instantly, a special advantage that enables you to avoid the normal wait during construction.
If you have the cash, and either have limited time or really want to dominate the game, consider buying some. Different-size ruby packages are offered in various price ranges.
But, again, purchasing rubies is NOT required. In fact, you'll accumulate a moderate number of rubies during normal game play as bonuses for defeating opponents, completing quests, and in other ways.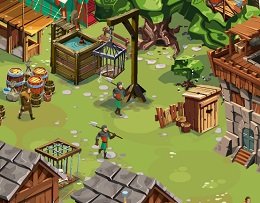 Main Street at Castle IronThor
If you have basic questions about Goodgame Empire, feel free to ask. If you wish, you can post game feedback, questions, or remarks in the Comments section at the bottom of this page.
I moderate posts before they go live, so please be polite.
If you have a more detailed question you think I can answer, send it to me through the form on my Contact Me page.
The Goodgame Empire game does have an online help file and forum where you can find answers to questions as well.
Sir IronThor Reaches Level 50
UPDATE. My character Sir IronThor has reached Level 50. He has 5 castles and over 1 million gold pieces. This progress has all been made without purchasing any rubies.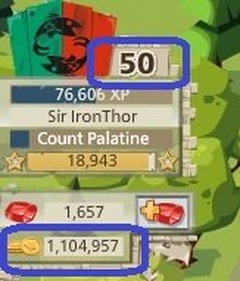 Sir IronThor, Level 50
Rubies give you an advantage in game, of course. So feel free to buy them if you wish. I've just been avoiding ruby purchases as an experiment to prove Goodgame Empire is truly "free to play".
You may ask: why am I pushing Goodgame Empire and Big Farm in particular? After all, there are lots of online strategy games out there. All well-made strategy games provide brain-boosting benefits.
First, the Goodgame online games are awesomely well-made, fun, and balanced. No way would I keep playing Empire to Level 50 if it wasn't. Second, these online games really are free to play.
And third, (full disclosure) the Goodgame company pays me a commission on ruby purchases made by players who access the game through this site. Your ruby purchases, if you ever make any (which you don't have to), help support a noble cause, namely my Memory-Improvement-Tips.com website. Many thanks!
Most brain games train one or two brain skills. For instance, Tetris games are effective for improving spatial orientation, but not multi-tasking, memory, or other mental abilities.
Strategy games like this one, on the other hand, are especially helpful if your goal is to boost your brain power and keep your brain sharp. Multiple brain skills are trained simultaneously while playing these games, as researchers have discovered.
[+] References for This Page
Published: 07/21/2016
Last Updated: 06/11/2020
Game distributed by GoodgameStudios.com. Used with Permission.