Free Christmas Game - Christmas Mahjong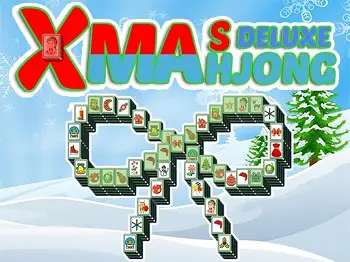 Here's a free Christmas game you might enjoy. It's Christmas-themed Mahjong online! Celebrate the Christmas spirit and keep your brain sharp at the same time.
This game is part of the free online brain games collection.
To begin, click the Small, Medium, or Large button under the picture of the game. This opens the game in a pop-up window.
If you like this game, you might also enjoy the other free online mahjong games on this site, such as Butterfly Connect.
Free Christmas Game - Instructions
This mahjong tile game follows the usual rules of mahjong. Click pairs of matching tiles to remove them from the board.
This game includes 24 levels of Christmas mahjong fun with Jingle Bells background music.
Games like mahjong train important brain skills like attention and visual perception.
I've also got another version of free Christmas Mahjong, here. You might also like my free Santa word search puzzle
Note: The instructions below are for the old Adobe Flash game.
HOW TO PLAY. Click matching pairs of tiles to remove them from the board. This game follows the standard rules of tile mahjong.
Not every pair can be removed. Only tiles that are not blocked on the left, right, or both sides of the tile can be selected.
You also cannot remove any tile that is covered up by other tiles.
Unlike other mahjong games that include multiple mahjong layouts of different design, this Christmas Mahjong game has just the single pyramid tile.
But that's okay. After all, the focus of this version is the Christmasy theme rather than having a full range of mahjong features.
This game does include other helpful mahjong-related features like a Hint button, Score box, Best Score box, Matches Left box, New Game button, Undo button, and Shuffle button.
Christmas-themed Mahjong Tile Images
This free Christmas game has the following jolly images on the tiles:
Not only are their all these Christmas holiday tiles, but some of the images appear in varying number. In other words, you might see a tile with one candy cane, and another with two, three, or five candy canes.
Christmas Mahjong - Extra Features
FULL SCREEN MODE. You can play this game in full-window mode by clicking the Maximize button in the upper-right corner of the window (the Full Screen button in the game does not work).
NEW GAME. If you get stuck or frustrated and want to start over, just click the New Game button. This will clear your score and replenish the tiles (shuffled).
HINT. If you get stuck, this free Christmas game includes a Hint button for help. Clicking the Hint button highlights a tile in the layout that is has an available matching tile somewhere in the layout.
SOUND. This free Christmas game doesn't have a soundtrack. But it does play the very Christmasy sound of sleigh bells every time you match a pair of tiles. Be sure to turn up your speakers!
UNDO. Sometimes you might remove a pair of matching Christmas mahjong tiles from the board, then realize you would have been better off using one of those tiles in a different match. In that situation, click the UNDO button to put the pair of tiles back in their original positions.
SCORE. Each pair you make earns you 2 points. Your score for the current game displays in the Score box in the upper right of the game.
MATCHES LEFT. This rather helpful feature tells you during the game how many available matches exist in the layout at that moment. For instance, when you match a pair that uncovers new available matches, the number displayed in the box goes up.
COINS: The coins (C) button shows how many gold coins you have available. Use your coins to purchase hints or shuffles. Each hint costs 1 coin. A reshuffle costs 2 coins.
Of course, you'll need to pair matching numbers of items in addition to the image itself. So a tile displaying a single Christmas tree ornament does not pair with a tile showing seven Christmas tree ornaments.
Just remember, the images on the mahjong tiles must match exactly to for a removable pair.
Mahjong is not only a popular solitaire game these days, but it's also a great brain game all by itself. This free Christmas game can help get you in the mood for the Christmas holidays, and keep you in the Christmas spirit all year long!
Published: 01/13/2016
Last Updated: 06/11/2020