Big Farm - Free-to-Play Farm Game Online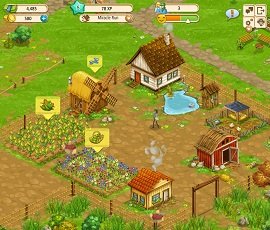 Looking for a free-to-play farm game online? Then give Goodgame Big Farm a try. You can register and play for free right from this page. In-game purchases are available in Big Farm to enhance your game play but are not required.
This game is part of the free online brain games collection.
Play this game free, right from this page!
Did I mention that it's free? You can expand your farm, raise cows, chickens, pigs, plant orchards, raise crops, and lots more without paying any real money.
To open the farm game, click the link under the picture of the game. This displays the game in a pop-up window.
Then log in to Big Farm to start playing. If you don't have an account for the game, register here for free. (See below.)
Big Farm is a resource management game. You inherit a small farm that includes a small plot of land, a few seeds, and some chickens. Wisely manage your farm and help it grow into a profitable business.
This farm game is relaxing, fun, and sometimes challenging. If you like this game, you might also enjoy Goodgame Empire, which is a free-to-play medieval castle building and conquest game.
Big Farm Game Online - Instructions
HOW TO PLAY. It's easy to get started with the Big Farm game. The online tutorial walks you through the steps needed to get your farm up and running.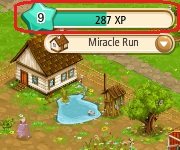 My farmer is Level 9
In-game purchases are offered, but these are optional. To test this, I created my own account. My farmer BuffaloPete has made it to Level 9 so far without buying any upgrades with real money. As far as I can tell, this game truly is free-to-play.
HOW TO REGISTER: It's easy. If you've never played Big Farm before, the first step is to create a free account.
To create an account, first open the Big Farm game screen. In the center of the screen, enter a name for your farmer, enter your email address, and create an account password.
Then click the Play button to start playing! It's that simple.
Note: Choose your farmer's name carefully. It's free to give him or her a name, but it'll cost you some gold later if you want to change it.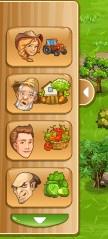 Upcoming tasks
To make progress in this Big Farm game online, click the tasks displayed along the left side of the game. The tasks explain what you should do next to build up your farm.
For example, when it's time to clear more land for crops, a task for that displays in the list. Or, if it's time to plant an apple orchard, you'll see an associated task in the list.
Here's the scenario: You start with a small farm you've inherited from Farmer George. The farm includes a few basic resources such as farmhouse, chicken coop, a field for planting crops, and a couple farm workers. It's your job to expand the farm and make it profitable.
The Big Farm game online includes many realistic aspects of farm life. For example, if you want to raise chickens for eggs to sell, you'll need to plant corn to feed the chickens.
If you want fertilizer, build a composter to turn leaves into humus. There are many real-life farm processes to set up and manage.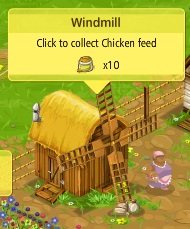 My windmill
In the beginning, this farm game is single player. After Level 6, however, you can join a farm cooperative ("co-op") with other real players.
By joining a co-op, you can work together with other players around the world to grow your farms.
The economy of the farm is measured in game dollars. For example, when you sell eggs laid by your chickens, you receive virtual dollars.
By Level 9, my farmer BuffaloPete had about $15,000 saved. Use the game money to select upgrades for your farm, including buildings, farm equipment, or more crop land.
In-game purchases of special or upgraded items are measured in gold coins. You can buy gold coins for this purpose if you wish, but again it is NOT required. You'll also earn a small amount free gold along the way as you play the game.
Lots of Fun Farm-Related Activities in this Game
The large number of activities in this online farm game is impressive. As just a few examples, your farmer can:
Fido, my trusty farm dog
Grow crops, such as cabbaage and corn

Raise livestock, such as chickens, pigs, cows, donkeys, and goats

Hire farm workers, and build homes for them to live in

Plant orchards (like apples) and sell the fruit

Adopt a farm dog that runs around the property; don't forget to feed him!

Construct farm buildings, such as barns, silos, windmills, chicken coops, and pigstys that serve valuable functions; for instance, use the windmill to grind corn to make chicken feed

Mine precious stones and gold on your property

Complete special missions for rewards; for example, collect the most corn in a given amount of time
Some online brain games are stressful, but this Big Farm game online is not. You do need to make plans, stay alert, and concentrate, but it's rather relaxing and fun to watch your farm grow.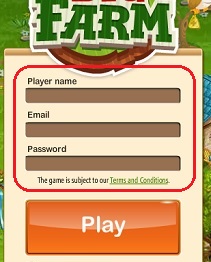 Registering is easy. Enter a character
name, email address, password.
Anyone who enjoys the idea of using care and skill to run a successful farm should like this game.
It's free to play, so sign up and start playing Goodgame Big Farm now. As I mentioned above, all you need to do to sign up is create a Big Farm account.
Creating an account is super easy. On the Big Farm screen, enter a Player Name (the name you want for your farmer), your email address, and make up a password for your account.
From then on, you sign in to play the game using the Login tab in the upper right of the game screen.
Big Farm is a strategy game. Playing it can help keep your brain sharp.
As research studies have shown, mental skills trained by this game include task-switching, working memory, multi-tasking, and planning.
Published: 08/18/2014
Last Updated: 06/11/2020
Game distributed by GoodgameStudios.com. Used with Permission.