Marbles Sorting Solitaire - Free Brain Game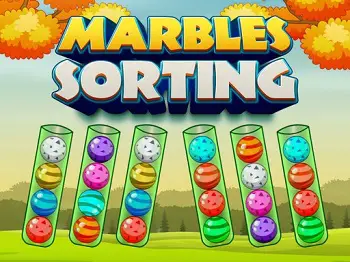 Marbles Sorting solitaire is a sorting puzzle game constructed with marbles. This brain game trains reasoning and short-term memory.
This game is part of the free online brain games collection.
To begin, click the Small, Medium, or Large button under the picture of the game. This opens the game in a pop-up window.
If you like this game, you might also enjoy other free online solitaire games such as Peg Solitaire.
Marbles Sorting - Game Instructions
From the game developer: Marbles sorting is a great brain puzzle game that helps sharpen your mind.
Try to sort the different marbles in the tubes until all similar marbles stay in the same tube. This game helps in coping with stress and refreshes your mind.
NOTE: The instructions below are for the old Adobe Flash version of the game.
The object of the game is to remove all the marbles from the board. This game has multiple levels (stages) that increase in difficulty as you progress.
Puzzle games are great to keep around the house, like on your coffee table so anyone passing by can give it a try.
HOW TO PLAY. Remove marbles by jumping over them. You need to plan your moves in advance so that your last jump removes the second-to-last marble from the board and lands the last marble in the hole.
You have 60 seconds to complete the first level. After that, your time for each level equals your remaining time from the previous level plus 15 seconds. So it pays to solve each stage as quickly as possible.
Each time you play, the layout of the levels changes. In other words, even if you have to repeat the lower levels, they are different every time.
The highest I've gotten is Level 6. This marble peg solitaire game is quite fun and challenging. It's a real brain workout!
Published: 10/31/2007
Last Updated: 09/16/2023