Match Em Concentration Cards - Free Brain Game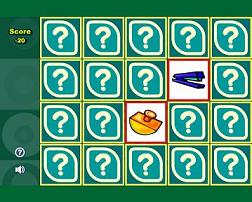 Match Em, also known as Memory Match or Concentration, is a great game for improving short-term memory. Turn cards over and try to match pairs in as few steps as possible.
To begin, click the Small, Medium, or Large button under the picture of the game. This opens the game in a pop-up window.
The HTML5 version Lappa Memory is an HTML5 game. It does not require the Adobe Flash player.
Note: The instructions below are for the old Adobe Flash game.
Match 'Em Instructions
Click the "START" button in the middle of the game to begin.
If you like this game, you might also enjoy the other free memory games on this site, such as Lightning Librarian, Trolley Dash, and Brain Safari.
HOW TO PLAY. All the cards on the grid begin face down. Click a card to turn it over. Try to find the second card that matches the first.
If the second card does not match, both cards return to a face down position. If they do match, the cards are removed to reveal part of the background image.
Try to match all the cards on the grid in the fewest steps possible. The trick is to use your memory to remember the cards even when they are turned back over.
This card matching game helps train short-term memory. This type of memory is very important for problems solving and other tasks where you need to hold several pieces of information in mind at one time.
Research has shown that most people can only hold about 5 to 9 items in short term memory. Memory tricks such as chunking can greatly extend this range, however.
The limit of human short-term memory is why phone numbers, credit card numbers, and other long sequences of numbers are often broken into smaller groups of 3 or 4 digits.
Published: 10/31/2007
Last Updated: 06/11/2020