Free Computer Tetris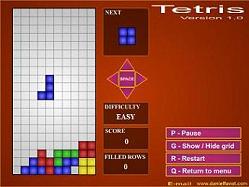 Looking for computer Tetris? Well, look no further. This impressive free version allows two players and has Easy, Medium, and Difficult settings.
To begin, click the Small, Medium, or Large link, or HTML5/Mobile link under the picture of the game. This opens the game in a pop-up window.
Note: The HTML5/Mobile version Falling Blocks Tetris is an HTML5 game. It does not require the Adobe Flash Player. It is a similar game by a different game developer.
Computer Tetris Instructions
Don't let the rather simplistic appearance fool you. This version of Tetris has tons of options. See below for details.
If you liked this game, you might also enjoy the other free Tetris games online on this site, such as Tetris Returns and the Original Tetris.
HOW TO PLAY.  NUMBER OF PLAYERS. Click the One Player or Two Player button to set the number of players. In two-player mode, you can choose separate keyboard commands for each player.
Two-player mode is incredibly cool. The players play side by side using the same keyboard!
Keyboard commands for two-player mode are as follows:
- Player 1: W, A, S, D, and Spacebar
- Player 2: four Arrow Keys and End key
Not only that, you can compete with your opponent. Here are the two-player game style options:
Get 100 points - first player to 100 points wins

Get 500 points - first player to 500 points wins

Get 1000 points - first player to 1,000 points wins

Last man standing - first player whose screen fills up loses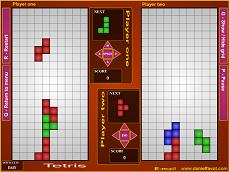 DIFFICULTY. Are you a Tetris master? Skip the Easy and Medium levels, and go straight to Hard. Click the Easy, Medium, or Hard button in the Difficulty section to change this setting.
STARTING NUMBER OF ROWS. Still not hard enough? Add some extra rows to the board.
These rows aren't going to help you, as they are full of holes. You can add up to 5 extra rows to the starting position of the grid.
OTHER OPTIONS. There are a few keyboard commands you can use for various options:
P key - Pause game

G key - Show/hide the grid

R key - Restart the game

Q key - Return to the menu
The game starts with the grid pattern turned on. This obviously helps you line up the tetrominoes as they fall. But you can disable the grid by pressing the G key.
This is a very impressive version of computer Tetris. Many thanks to Daniel Favot who did a superb job designing and programming it.
Published: 04/30/2010
Last Updated: 06/11/2020