Free Run Game - Color Tunnel 2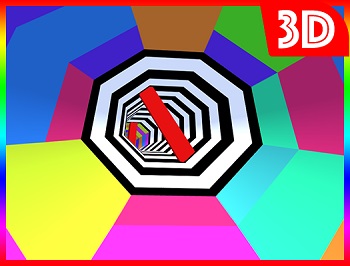 Check out Color Tunnel 2, a free run game. Color Tunnel 2 is a fast-paced dodging games inspired by the Slope Game and Run 3.
This game is part of the free online brain games collection.
To begin, click the Small, Medium, or Large link under the picture of the game. This opens the game in a pop-up window.
On desktop, use the Left/Right arrow keys to move. On mobile, drag the screen left or right to move.
Color Tunnel Free Run Game - Instructions
You are moving in a tunnel full of color at a blazing speed and need to avoid obstacles in different shapes.
You need to be very agile and precise to see the position of the incoming obstacle and quickly shift your position away to avoid it. Stay focused and break your record!
Note: The instructions below are for the old Adobe Flash version of the game.
Called simply "RUN", the goal is to run your character through a square tunnel in outer space without falling through any holes.
This game is a lot of fun, but it's also great as a brain training exercise. In particular, this free RUN game strengthens important brain skills including attention, spatial orientation, and reaction time.
n this free run game, the walls of the tunnel that you are running in have numerous rectangular holes or gaps distributed randomly. The holes are the obstacles.
Don't fall through the holes!
Even if you do fall while running, don't worry. In this free RUN game you get infinite lives.

To begin playing in the standard mode of this running game, click the Adventure Mode link on the main menu screen. Adventure Mode means there are levels for you to complete by running far enough.
(There are two other modes available in the RUN game. Infinite Mode which I assume means no leveling, and Edit Mode which I had trouble getting to work.)
To jump over a hole, press the Spacebar. Or, you can run left or right around the hole. To move your character to the left or right, press the Left or Right Arrow keys.
The speed of your running character is automatically controlled. There is no stopping, standing in place, or backing up.
The games starts out at Level 1 which is fairly easy. As you progress through levels, the game becomes quite a bit more difficult. Practicing the game until you can progress further and further along is what makes this a brain training activity.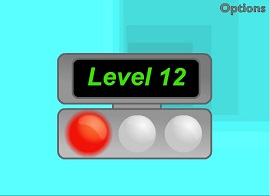 I've run through Level 12 so far
If you fail to run around a hole and do fall in, you're character starts running again immediately at the beginning of the same level.
ROTATING THE TUNNEL. There is one aspect to this free run game that makes it especially challenging. That's the ability to rotate the tunnel to avoid gaps in the walls.
Rotating the board makes a game much more difficult as your mind is forced to adjust in 3 dimensions.
Here's how this works. Suppose while running forward you notice a huge hole in the floor directly in your path. This hole appears too large to jump over. In that situation, rotate the tunnel itself!
This is a gravity-shifting step. Rotate the tunnel clockwise or counterclockwise by holding down the Right Arrow key or Left Arrow key.
Your runner pauses momentarily as the tunnel turns. What was previously a wall becomes your new floor and running path.
This maneuver takes practice, so keep trying until you master it. I've found that many times it's easier in this game to simply rotate the tunnel than try to run around a bunch of scattered gaps located close to one another.
OPTIONS. To pause this free running game, simply click the Options link in the upper right corner.
Besides pausing the game, accessing the Options screen displays controls for game quality and muting the sound (if desired).
I spent a lot of time playing Temple Run in the past, so I really enjoy this free RUN game. The best part is after playing it, my concentration seems laser focused.
Hopefully you'll benefit from this challenging game as well, both as entertainment and as exercise for your brain.
Published: 10/02/2014
Last Updated: 11/16/2022