Crazy Jetpack Game - Endless Runner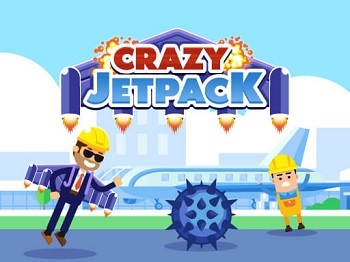 It's the Crazy Jetpack game! Armed with your business suit and a jetpack prototype, fly around the runway, collect bonuses, and avoid obstacles.
This game is part of the free online brain games collection.
To begin, click the Small, Medium, or Large button under the picture of the game. This opens the game in a pop-up window.
Like this free game? You might enjoy other endless runner games on this site, such as the Slope Run.
Jetpack Game - Instructions
This is an endless runner game that trains concentration and visual perception.
From the Game Developer: Watch out for deadly missiles, rotating lasers, and giant spike boulders.
Collect coins to purchase upgrades in the store. How far can you fly your jet pack in this joyride?
NOTE: This page used to have the Jetpack Joyride game, but that game is no longer available. I've replaced it with Crazy Jetpack which is super fun, too!
Old Instructions. The instructions below are for the old Jetpack Joyride game.
How to Move Barry: Press and hold the mouse button or touchscreen to go up, release to go down. Collect coins and power-ups. Use different vehicles and gadgets to fly faster and farther. Avoid the obstacles!
It's time to join Barry Steakfries and equip cool jetpacks, suit up in stylish costumes, and ride crazy vehicles in his endless running quest to beat the scientists to the end of the lab.
DISCLAIMER: This game is not available in India, Philippines, Indonesia, Thailand, Bangladesh, Ethiopia, or Nigeria.
Vehicles and Gadgets
Vehicles. These are special modes of transportation that you can use when you collect a vehicle pickup. They have different abilities and drawbacks, and they protect you from one hit.
Some of the vehicles are:
Bad As Hog (a motorcycle that can smash through obstacles), Crazy Freaking Teleporter (a device that can teleport you to a random location), Gravity Suit (a suit that can reverse gravity), Lil' Stomper (a giant robot that can stomp on enemies), Mr. Cuddles (a fire-breathing dragon that can fly), and Profit Bird (a bird that lays coins).
Gadgets. These are items that you can equip before each run to enhance your performance or add some fun effects. You can equip up to two gadgets at a time, and some of them have special combinations.
Some of the gadgets are: Air Barrys (sneakers that let you jump higher), Coin Magnet (a magnet that attracts coins), Ezy-Dodge Missiles (a chip that makes missiles slower and easier to dodge), Freeze-O-Matic (a gun that freezes enemies and obstacles), Gravity Belt (a belt that makes you fall faster), and Nerd Repellant (a spray that removes all scientists).
Strategy Tips. Here are some strategy tips for Jetpack Joyride that might help improve your score:
Turn the music off to avoid being distracted.

Use Head Starts every time to get a boost.

Focus your attention on the right side of the screen to better avoid obstacles.

Try different jetpacks and gadgets. Use those that suit your playstyle.

Use tiny taps to hover around a safe place and avoid sudden movements.

Collect tokens and use them in the slot machine for bonuses.

Hang out midway up the screen so you can quickly ascend or descend as needed.

Avoid using a jetpack that has rapid fire. It may disorient you.
Ways to maximize the number of coins you collect:
Use the Coin Magnet gadget to make coins come to you.

Use the Flying Pig gadget... you'll get extra coins this way.

Use the Gemology gadget to increase the value of random coins.

Use Head Starts to blast through the easy sections. Collect coins as you go.

Cash in Spin Tokens for a chance to win coins.

Level up by completing missions and get coins as a reward.
Jetpack Joyride is a very popular game that has been downloaded by over 750 million players. It has received mostly positive reviews from critics and users, with an aggregate score of 90 out of 100 on Metacritic for the iOS version.
It is also available on many platforms, such as web browsers (as here on this site), PSP2, and Apple Arcade. It is a fun and addictive endless jetpack runner game where you fly a jetpack and avoid obstacles while collecting coins and power-ups.
Jetpack Joyride is a jetpack game that can be both easy and hard, depending on your skill level and how far you want to go. The controls are simple: you just tap or hold the screen to make Barry fly up or down with his jetpack. The visuals are also colorful and vibrant, making the game fun and appealing.
However, the game is also challenging, as you'll need to avoid obstacles and enemies that will try to stop you or hurt you.
The game gets harder as you go further, with more obstacles and faster speed. You'll also need to collect coins and power-ups that can help you or hinder you along the way. Some players may find the game easy to play but hard to master, while others may find it hard to play but rewarding when they achieve their goals.
It depends on your personal preference and style of playing. In any case, Jetpack Joyride is an addictive jetpack game that will keep you hooked for hours on end.
Is Jetpack Joyride Good for Your Brain?
Jetpack Joyride is a game that can be good for your brain in some ways, but not in others. On one hand, the game can improve your reaction time, hand-eye coordination, and spatial awareness, as you need to quickly dodge obstacles and collect items while flying1,2,3. The game can also stimulate your brain with its colorful graphics, catchy music, and humorous elements.2,4,3
On the other hand, the game can also be addictive and distracting, as it uses game psychology to keep you hooked and make you want to play more5. The game can also be stressful and frustrating, as it gets harder and harder as you progress5. The game may also expose you to cartoon violence, such as weapons, explosions, and brain-eating aliens1.
Therefore, Jetpack Joyride is a game that can be good for your brain if you play it moderately and responsibly. It can be a fun way to relax and challenge yourself. However, if you play it too much or too obsessively, it could have negative effects on your brain health.
[+] References
Published: 01/19/2023
Last Updated: 08/03/2023