Mahjong Dimension Games - Play Free Online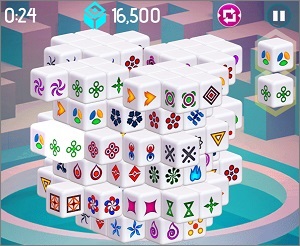 This 3D online Mahjong Dimension game lets you play mahjong in a whole new way. Spin the colorful mahjong stack as you search for matching tiles for points.
This game is part of the free online brain games collection.
To begin, click the Small, Medium, or Large button under the picture of the game. This opens the game in a pop-up window.
If you like this game, you might also enjoy the other free mahjong games on this site, such as Majong Solitaire.
Want a greater challenge? There's only one way to keep the clock running in Mahjong DARK Dimensions. That's by matching Time Bonus Tiles.
Instructions - Mahjong Dimension Game
If you've ever played mahjong before, you can jump right into this game. It will make sense right off the bat.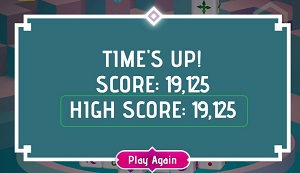 This Mahjong Dimensions game is on a timer. You have about 6 minutes to complete as many levels as you can and rack up as many points as possible. Spin the mahjong tile stack by dragging it side-to-side or use the on-screen arrows.
So far I've made it to level 3 and earned about 20,000 points. Level 3 means I cleared the first two rounds of mahjong and finished up in the middle of the third round.
NOTE: I noticed that it's sometimes necessary to click the Start button twice to access the game. A slight glitch, I suppose.
For those who have never played mahjong tile games before, I'll explain the basic rules below. Mahjong Dimensions is quite challenging and requires intense concentration.
Basic Mahjong Rules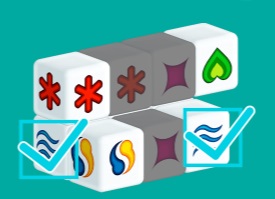 The game play in most forms of mahjong consists of identifying and matching pairs of tiles in the mahjong structure. Forming a match pair removes those two tiles. The object of the game is to completely remove all tiles from the board.
In a regular mahjong tile game, such as EZ Mahjong, the tiles are flat and have an image on one face only (the top face). In this Mahjong Dimension game, on the other hand, the tiles are actually cubes.
The top and bottom of the cubes in Mahjong Dimensions are blank. The four sides show an image, such as a flower or geometric shape. Per the normal rules of mahjong, your goal is to find two cubes that have the same design and pair them up to remove them from the stack.
To pair up two matching cubes, simply click the first cube to highlight it, then click the second cube of the same design. At that point both mahjong cubes disappear and you receive points.
Mahjong Dimension Features & Scoring
Forming a matching pair of mahjong cubes earns you points. But if you are fast enough, you can earn bonus points, too.
If you make two matches within 3 seconds of each other, you earn a x2 Speed Match multiplier.
When you match the same images in a row, you earn a x5 Multimatch Combo.
Important: If you get stuck and can't find any matches, click the Reshuffle button. The rearranges the remaining mahjong cubes which can help you break through a sticking point.
Be sure to take advantage of the reshuffle feature each time you play, since you are on a timer and long delays can cost you a lot of points.
Mahjong tile games like this free online Mahjong Dimension game train important brain skills including concentration, pattern matching, and spatial awareness. Play games like these often to give your brain a boost!
Published: 04/10/2020
Last Updated: 12/29/2021