Atari Asteroids Online - Play Free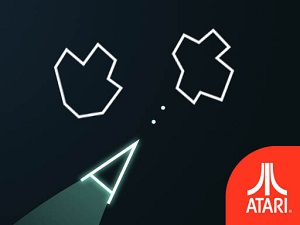 Atari Asteroids online is the classic space-themed multi-directional shooter arcade game. Control a single spaceship in an asteroid field. Watch out for the enemy flying saucers!
This game is part of the free online brain games collection.
To begin, click the Small, Medium, or Large button under the picture of the game. This opens the game in a pop-up window.
On the keyboard, use the Right and Left arrow keys to point your ship. Press the Spacebar to shoot. Press the Down arrow key to instawarp to a new location through Hyperspace.
Atari Asteroids Online - Instructions
This is an HTML5 game. It does not require the Adobe Flash player.
Arcade games like Atari Asteroids game train important brain skills including attention, visual perception, and reaction time. Play these games often to give your brain a boost.
This is the official Asteroids game originally created by Atari and is free-to-play online here.
If you like Atari Asteroids online, you might enjoy the other Atari concentration games on this site, such as Atari Centipede.
This game features the classic Asteroids arcade experience, with enhanced gameplay for mobile devices and impressive modernized graphics.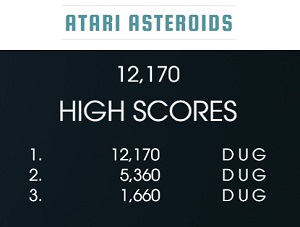 Move your spaceship by rotating and using your thrust. Shoot and destroy all asteroids and flying saucers, but watch out. When you destroy an asteroid, it breaks into smaller pieces, and asteroids that drift will reappear from the sides of the screen.
Each asteroid destroyed is worth 20 to 100 points. The Asteroids game becomes much more difficult as you reach higher scores.
TIP: The large flying saucers shoot randomly and poorly. The small saucers are much more precise. They're worth 1000 points.
Don't forget about the Hyperspace feature. Jumping through Hyperspace is an emergency feature meant to escape too many asteroids bearing down on you.
Press the Down arrow key to activate Hyperspace. There's no limit to the number of Hyperspace jumps you can make.
However, don't use Hyperspace too frequently, or your ship might crash into an asteroid. That's because you don't control where your ship re-appears. If you're unlucky, it may re-appear in the path of an asteroid.
BONUS: This Atari Asteroids game includes a "High Scores" scoreboard, just like the original.
I remember playing Asteroids at game rooms decades ago. This is a wonderful modern reproduction of the original.
Published: 03/05/21
Last Updated: 03/05/21