Classic Pinball Online - Free Brain Game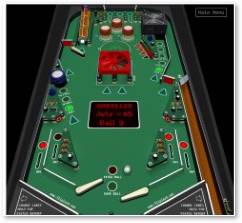 This pinball online game is a cool replica of an early style pinball machine. Now you can play classic pinball free anytime!
To begin, click the Small, Medium, or Large link, Very Large button, or HTML5/Mobile link under the picture at left. This opens the game in a pop-up window.
Note: The HTML5/Mobile version Pinball Space Adventure is an HTML5 game. It does not require the Adobe Flash Player. It is a similar game by a different game developer.
Classic Pinball Online - Instructions
HTML5 Version Only: To win the jackpot, first light up all the "jackpot" letters by passing the ball along the passage as many time as the letters that make the word (i.e., 7 times). You then have one minute to pass the ball one more time along the jackpot passage to get the jackpot. The multiball stage is not yet implemented.
Found in arcades everywhere, pinball is actually a stimulating brain game. Lightning reaction time and intense concentration are required.
For those who want to go after the high score, there's plenty of strategy, too. (UPDATE: The leaderboard for this game is no longer functional.)
This pinball game may appear retro, but it's got plenty of depth. You can hit Combos and Multipliers for extra points.
There are Loops, Jets, Spinners, Bonuses, and Rewards. You're sure to get at least one Ball Save every game and maybe an Extra Ball or two, if you're lucky.
You can even have more than one ball in play at the same time. In fact, today I had 6 balls in play at once. Imagine tracking the random paths of six ricocheting pinballs. My concentration was at its peak.

If you've never played pinball online before or in the arcade, the concept of the game is simple: keep the white ball bouncing around inside the machine for as long as possible. Use the left and right paddles to prevent the ball from escaping.
As you get better at this pinball online game, you'll want to hit combos, multipliers, and other high-value shots for extra points. Eventually, you may want to aim for high scores.
UPDATE: It appears the High Scores leaderboard is no longer being supported by the game developer. In other words, you can still play pinball, but the game doesn't keep track of high scores anymore.
If you like this game, you might also enjoy Cube Field and Twisted Tennis.
HOW TO PLAY. If you don't want to change any options, start the game by clicking the Play button.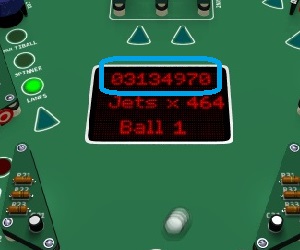 My high score: 3,134,970
Here are the controls for this classic pinball online game:
Left Paddle. Z key or Left Arrow key.

Right Paddle. / (Forward Slash) key or Right Arrow key.

Launch Ball. Shoot the ball by pressing the Enter key.

Tilt. If the ball gets stuck, press the Spacebar. This tilts (shakes) the pinball table, which might knock the ball loose.
You get five balls per game, not counting Extra Balls or Ball Saves. To Restart the game, click the Main Menu button, then the Restart button.
There are a few optional controls you can change:
OPTIONS. Click the Options button to access the pinball Options screen where you can change the level of difficulty or language. You can also turn off the music and pinball sounds here.
CONTROLS. Click the Controls button to access the Controls screen. This screen lists the controls keys mentioned above. You can't actually change anything in this screen.
HIGH SCORES. If you get a really high score, consider posting it to the leaderboard. At the end of your game, a Submit Score button appears.
Click that button to send your score to the leaderboard. See how you compare to other pinball players.
Get into the zone (i.e., really focus intently), and you can get a seriously high score. Today I broke 3,134,970 points while on a roll. See if you can beat that!
I actually could have kept going, but with 6 balls on the table at once my brain was on overload.

Remember the 1969 hit Pinball Wizard by The Who? It's a song about a deaf, dumb (mute), and blind young man who becomes the local pinball champion. Talk about a master of concentration.
You might not ever be able to focus like the Bally Table King, but playing pinball online is certain to help improve your concentration, reaction time, and other brain skills.
Published: 09/03/2012
Last Updated: 06/11/2020
Game distributed by FlashGameHQ.com. Used with Permission.
If you found the page above interesting, fun, or useful, please click the "Like" and/or "Share" button below. Feel free to leave a comment as well. Thanks very much!